'Some tube lights are like this': PM Modi's punchline for Rahul Gandhi's 'dande marenge' comment

Pointing out the holes that lay in the comment of Rahul Gandhi's "will beat PM with sticks" remark, PM Modi also had a punchline to deliver, which implied that the Congress leader was a "tube light"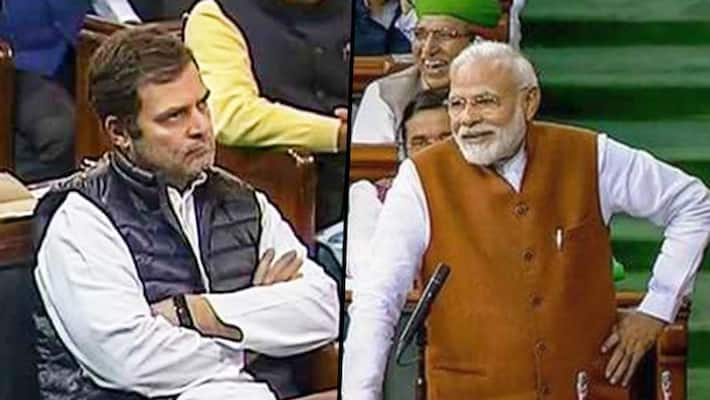 New Delhi: PM Modi rendered a light-hearted retort to Rahul Gandhi's 'youth will beat PM with sticks' remark. The Prime Minister's words did cut like a knife though in Lok Sabha.
In order to cope with the impending assault, the Prime Minister said that he will increase the frequency of doing Surya Namaskar.
"A leader of the Congress has yesterday announced that within six months they will beat Modi with sticks. And it is true that this is a difficult thing, hence six months will be required to prepare. So, the six months of time is good," the Prime Minister stated, adding that he will make efforts to strengthen his back.
 "But I have also decided that in these six months I will increase the number of 'Surya Namaskars' so that, same as I have made myself abuse-proof in last 20 years, I will do as many Surya Namaskars so that my back can be made strong enough to tolerate such beatings by the stick," he added stating that he is grateful for the six-month advance warning.
 It was at the end of this part of the Prime Minister's speech when he was replying to the Motion of Thanks on the President's Address that Rahul Gandhi made an attempt to interject but could not be heard.
It was here that the Prime Minister used his wit once again.  He was quick to gun in effort to make Rahul sit back down when he said, "I was speaking for 30-40 minutes now, but the current has reached there now."
"Some tube lights work like this," he remarked.
The House proceeded with other matters, but it was quite a retort to Rahul Gandhi's comment at a rally on Wednesday.
"Narendra Modi is giving speeches, he will not be able to move out of his house in the next six months. The youth of India will beat him with sticks to make him understand that without employment, the country can never progress," he had said.
(With ANI inputs)
Last Updated Feb 6, 2020, 3:49 PM IST