Siddaramaiah must desperately want elections to be Karnataka CM again: HD Devegowda
Congress' Siddaramaiah must be eager to become the chief minister of Karnataka again, so he might want to contest elections tomorrow itself. But we don't need elections to come to power again, said JD(S) chief HD Devegowda.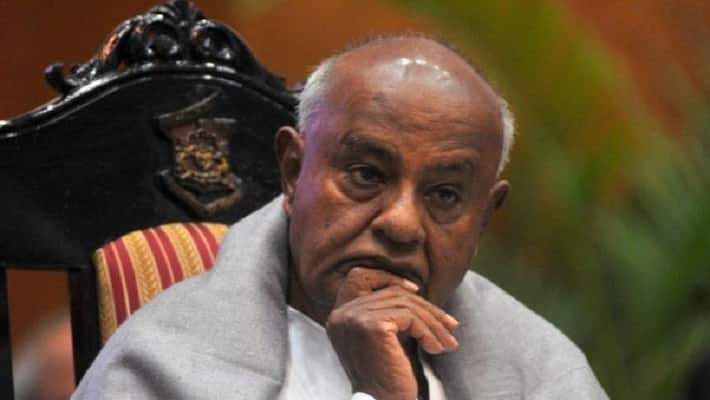 Bengaluru: JD(S) chief HD Devegowda lamented that Siddaramaiah is impatient to become the chief minister again.
"Siddaramaiah is the opposition leader now. He eagerly wants to be the chief minister again and thus wants the interim elections to take place tomorrow itself. But I don't want elections," said HD Devegowda (also known as HDD).
Addressing media at JP Bhavan on Tuesday, JD(S) supremo said, "We should see if we are capable of announcing a candidate today if elections are held tomorrow. Maybe Siddaramaiah is capable of doing that. This may be the reason why Siddaramaiah is keenly talking about elections now."   
Devegowda asserted that Siddaramaiah is a leader belonging to the minority community but he doesn't belong to the Ahinda (backward) community.
"Siddaramaiah is an Ahinda leader. But which hind community do I belong to? I have no idea about it and this is why Siddaramaiah must want elections," mocked HDD.
"However, I don't want elections. Siddaramaiah is the only leader in their party and do I have the capability to snatch his leadership?" said the JD(S) chief.
HD Devegowda also spoke about the bypolls and said they will not be forming alliances with any party.
"We will contest bypolls singlehandedly as a party and not form an alliance with any other party. We will take into consideration the party workers' opinions and see to it that they aren't left abandoned. We are finalising the candidates' list. We have finalised about 70% candidates for the upcoming bypolls. Many young leaders are coming forward wanting to contest bypolls and we are analysing whom to field. There will be healthy competition if elections take place. But we are sure that we won't be forming an alliance with any party. We had bad experiences after forming alliances with Congress and BJP. There is no question of forming alliance with any of them."
"We will fight against BJP and Congress to the best of our capabilities. We are sure of winning in some constituencies."
Devegowda said they will be holding a protest in front of chief minister's residence on November 15, condemning the police atrocities on JD(S) youth workers.
HDD also said they will hold a meeting on November 12 with JD(S) MLCs and sort out the differences of opinions among them. 
Last Updated Nov 6, 2019, 2:01 PM IST