Siddaramaiah cannot say he will be Karnataka CM for next 5 years: Ex-CM SM Krishna
Former Karnataka Chief Minister SM Krishna expressed concern about the state of politics, emphasizing the need for leadership based on merit, social justice, and ethics, not just tenure or caste. He called for addressing corruption and urged a collaborative approach to resolve the Cauvery River water issue. Krishna announced his retirement from politics and stated his family's disinterest in the upcoming elections.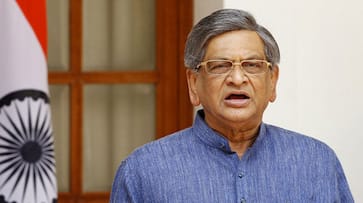 Former Chief Minister of Karnataka, SM Krishna, voiced his concerns about the current state of politics and its direction during a candid conversation with reporters in Somanahalli village, Mandya. He decried what he perceived as an unhealthy development in democracy, with a strong emphasis on asserting, "I am the CM for five years." Krishna stressed that this singular focus on term duration is not conducive to the state's political landscape.
Krishna went on to underscore the importance of leadership selection based on merit, achievements, and dedication rather than merely emphasizing one's tenure as Chief Minister. He firmly asserted that leaders should be chosen for their commitment to social justice and the greater welfare of the state, rather than their caste. He emphasized that the practice of selecting leaders based on caste amounts to a mockery of democracy.

Karnataka : Home Minister Parameshwar reacts to Siddaramaiah's 5 year CM comment
The former Chief Minister also pointed out that corruption represents a significant threat to the future of democracy. He highlighted the crucial role of integrity and purity in both accepting and bestowing responsibilities, believing that the future of democracy rests on those who uphold moral and ethical values. Krishna held that political dilemmas can be resolved when politicians are mindful of their limitations.
Addressing the Cauvery River water problem, Krishna argued that its resolution hinges on farmer leaders from the four affected states coming together for a discussion. He criticized the present state government for not adhering to the necessary protocols in releasing water to Tamil Nadu.

Siddaramaiah vs DK Shivakumar faction: Intensifying political turbulence in Karnataka

Regarding his personal political career, SM Krishna announced his retirement from politics and declared he has no intention of campaigning for any party in future elections. He described his retirement as a blissful phase, free from fatigue and stress, spent comfortably reading newspapers daily and staying updated with the news on television.
Furthermore, he clarified that no members of his family are participating in the upcoming Lok Sabha elections. Krishna mentioned that his daughter has no interest in politics, as she and her children are focused on their respective careers. He emphasized that involvement in politics should be a personal choice, not something forced upon individuals.
Last Updated Nov 4, 2023, 12:41 PM IST