Shivajinagar ticket fight intensifies as Katta Subramanya Naidu enters fray
BJP veteran Katta Subramanya Naidu is aspiring for a ticket to contest from Shivajinagar during the Karnataka by-polls, whereas disqualified MLA Roshan Baig is eager for a BJP ticket to contest by-polls.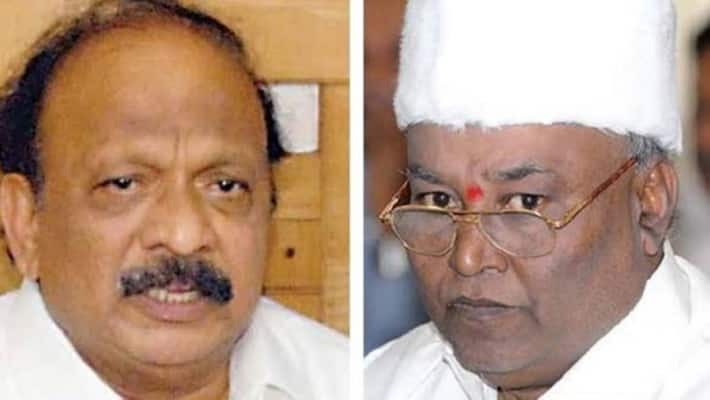 Bengaluru: The stage is set for the upcoming by-polls on December 5 and the BJP is faced with the problem of accommodating the disqualified MLAs. The disqualified MLAs joined the saffron party today and might contest by-polls from all 15 constituencies on a BJP ticket.
However, it is different in disqualified MLA Roshan Baig's case. The BJP is still uncertain about welcoming the leader into the saffron party. The seven time MLA Roshan Baig has bid goodbye to Congress and is eagerly awaiting a BJP ticket. But sources say there is no clarity about him being welcomed into the BJP. Roshan Baig has claimed that he is joining the BJP on Thursday. His name is missing only because of a typing error, he said.
This has yielded a chance for Katta Subramanya Naidu who is aspiring for a ticket to contest by-polls from Shivajinagar constituency.    
A 25-year-old political rivalry enters its third round as a BJP veteran returns to his seat in the heart of the city to challenge the bastion of the Congress and presently disqualified MLA Roshan Baig in one of the most keenly fought contests in Bengaluru.
Now, Katta Subramanya Naidu has asked for a BJP ticket and has assured chief minister BS Yediyurappa to win the December by-polls if given a ticket.
Reports are rife that Roshan Baig might contest by-polls as an independent candidate if he is not given a ticket from BJP. Also, BJP's think tank is keen on fielding a BJP corporator in Shivajinagar constituency to divide the votes.  
Roshan Baig, today, however, refused to answer when asked about him wanting to join the BJP and contest the upcoming bypolls on a BJP ticket. Also, it is almost certain that Rizwan Arshad will be contesting from Shivajinagar constituency on a Congress ticket.
As Shivajinagar is a Muslim majority stronghold, the BJP and Roshan Baig are strategizing to win the by-polls.
Shivajinagar constituency, from Ulsoor to Sampangiramnagar, has been a Roshan Baig bastion since delimitation in 2008. Before that, Baig had contested from Jayamahal constituency since 1985, while BJP's candidate Katta Subramanya Naidu, had not contested in 2013. However, Katta Subramanya Naidu won from Shivajinagar in 1999 and 2004 before moving to Hebbal in 2008. In 1994, the two veterans clashed, and Roshan Baig, who was with JD(S) then, comfortably beat Naidu by a vote margin of nearly 20%.
Last Updated Nov 14, 2019, 4:00 PM IST