Sandalwood's Odeya movie actress changes her name, fans wonder why?
Sandalwood star Darshan's Odeya movie actress changes her name from Ragavi Thimmayyah to Sanah Thimmayyah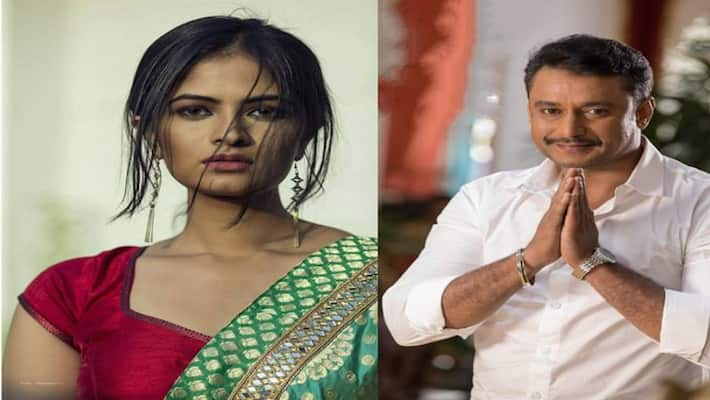 Bengaluru: Even as Challenging Star Darshan's Odeya movie teaser is making all the noise for the right reasons, another piece of news has piqued the interest of the audience. This is related to the actress of the Kannada movie.
Odeya movie teaser shattered all records and created eight new records since the day it was released. The teaser joined the list of ten most liked teasers in Sandalwood, reaching 1 million views in just 2 hours.
Budding under the wing of Prasad Bidappa, Ragavi Thimmayyah plays the lead role and love interest of Darshan. The slim beauty has now changed her name to Sanah Thimmayyah. As soon as she was selected during Odeya film auditions, she had changed her name to Ragavi Thimmayyah as her screen name. Now yet again, before the release of Odeya movie, Ragavi has changed her name to Sanah.
There is no much meaning behind her name change as her family believes Sanah sounds much better than Ragavi. Later, the actress discussed it with the film crew and things were decided. Ragavi was changed to Sanah before the release of the movie.
The actress said she didn't consult any astrologer for her name change and hopes that her fans like her new screen name.
Produced by Sandesh, Challenging Star's Odeya movie might release on December 20 or even before that. Bulbul fame director Sridhar has called the shots for Odeya movie as well. With Darshan as the hero, fans are sure to flock the theatres and Sanah too will gain from it. Well, we'll have to wait until the movie releases to see if audiences will accept the tall beauty as Sanah Thimmayyah.   
Last Updated Nov 7, 2019, 6:00 PM IST