Sakhi Dasara Utsav: Golgappa competition to be held on October 18; check details
Mysore Dussehra celebrations by Sakhi Foundation and Surya Charitable Trust include women-oriented entertainment and a golgappa eating contest on October 18. Various cultural events spanning from the 15th to the 23rd will be held at different locations. Over 2,800 applications have been received for different art forms.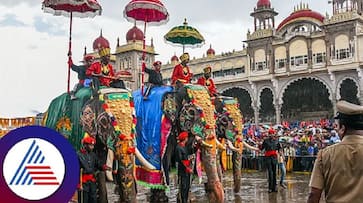 As part of the grand Mysore Dussehra celebrations organized by the Sakhi Foundation and Surya Charitable Trust, a range of entertainment activities catered to women, along with a thrilling golgappa (pani puri) eating contest, are set to unfold. These lively events are scheduled for the 18th of October and will feature Geetha Arseetha, Pakka 420, Bindi Lagaon Balloon Chadav, and the Golgappa eating competition starting at 2:30 PM.
The vibrant festivities will take place within the premises of Jayalakshmidevi Pre-Graduation College near Ramakrishnanagar Circle. For additional details and registration, interested individuals can contact the following numbers: 9964790442 and 8310306882.

Spectacular Mysuru Dasara returns: Festivities set to commence on October 15; check details
The Cultural Sub-Committee, in celebration of Dussehra, has organized an array of cultural programs from the 15th to the 23rd. These programs will grace the forefront of the palace, the 10 Nanjangud Srikantheshwara Temple Precincts, as shared by GPAM CEO K.M. Gayatri.
Addressing a press conference at the Palace Board Hall in Mysore, K.M. Gayatri announced that the Dasara cultural programs, coupled with the State Sangeet Vidwan award ceremony, will kick off on the 15th at 6 PM on the stage set in front of the palace.
The process for selecting the performers for the palace stage program is in full swing, with the best teams to be chosen out of a pool of many applicants. The selection of artists for the remaining stage programs will conclude within two days.
An impressive total of 2,803 applications have been submitted, including 468 for drama, 920 for music, 340 for folklore, 692 for dance, 18 for harikatha, 37 for sobana pada, 265 for instrumental music, 10 for puppetry, 5 for magic, and 48 for narration.

Mysuru Dasara 2023: Public entry restricted inside Palace on THESE dates
Throughout Navratri, spanning nine days, the Jaganmohan Palace, Kala Mandir, Ganabharathi, Nada Brahma Sangeet Sabha, Chikkadiyara, and Nanjangud Srikantheshwara Temple Precincts will come alive with a diverse array of cultural performances. 
Expect a rich tapestry of classical music, classical dance, choreography, Bharatanatyam, smooth music, nadaswaram, saxophone, sobana pada, devotional songs, traditional songs, tattva pada, harikathe, folk singing, instruments, puppetry, yakshagana, dollina song, kolata, jade kolata, and the harvest dance of Kodagu, among other engaging programs. This vibrant lineup provides an incredible platform for nearly 4,000 artists from a total of 252 art groups to participate.
Last Updated Oct 13, 2023, 1:28 PM IST