Rs 20-lakh crore special package: Nirmala Sitharaman focuses on coal, defence, atomic energy sectors
Today's announcement encompassed the structural reforms in eight sectors including coal, defence space and atomic energy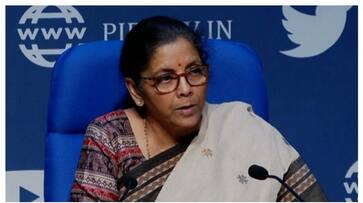 New Delhi:  Finance minister Nirmala Sitharaman released the fourth tranche of the Rs 20-lakh crore economic package to tide over the disruptions in the economy caused by the coronavirus-induced lockdown.
In the first two announcements, FM Nirmala Sitharaman had announced measures related to MSMEs, non-banking finance companies (NBFCs), migrant workers and street vendors, while the third round of the stimulus package focused on agriculture, allied activities and farm-produce-related administrative reforms.
With the announcement made yesterday for the agriculture sector, finance minister helped the farmers in getting better prices for their produce. FM Sitharaman also proposed to bring in a central law to provide adequate choices for the farmers to sell their produce at attractive prices by removing barriers to inter-state trade and providing a framework for e-trading of agriculture produce.
On Saturday, the government announced structural reforms to bring a new line of investments: coal, mineral, defence production, airspace management, airports, MRO, distribution companies in UTs, space and atomic energy.
The structural reforms being announced today will impact those sectors which are new horizons of growth, unleashing new investment, boosting production and creating jobs, said Nirmala Sitharaman.
Coal sector:
Government monopoly in the coal sector will be removed. Commercial mining of coal on a revenue sharing basis will increase availability at market prices. Liberalised entries for a range of coal blocks along with incentives. Rs 50,000 crore will be spent by the government to ensure evacuation infrastructure is being provided in the coal sector.
500 mining blocks would be offered through an open and transparent auction process, a joint auction of bauxite and coal mineral blocks will be introduced to enhance aluminum industry's competitiveness, said Nirmala Sitharaman.
Defence production:
"In critical areas like defence we need to boost programmes like Make in India. We shall notify the list of weapons and platforms which shall not be allowed for import but we shall have them bought from India. Foreign direct investment limit in defence manufacturing under automatic route is being raised from 49% to 74%," said FM.
Airspace management, airports, MRO:
She further said, civil aviation is up for a big leap. "We will be able to get to our destination in the shortest possible time, saving fuel, time, cost," she added. Restrictions on the utilisation of Indian air space will be eased so that civilian flying becomes more efficient. This will bring a total benefit of Rs 1,000 crore per year for the aviation sector.
6 more airports are for auction. Additional investments are likely to happen by private players. Airport component repairs and airframe maintenance to increase from Rs 800 crore to Rs 2,000 crore in 3 years, she added.
India to become a global hub for Aircraft Maintenance, Repair and Overhaul (MRO). The tax regime for the MRO ecosystem has been rationalized. Aircraft component repairs and airframe maintenance to increase from Rs 800 crore to Rs 2,000 crore in 3 years, Sitharaman stated.
A tariff policy with reforms will be released, including consumer rights, promotion of industry and sustainability of the sector, she added.
Distribution companies in UTs, space and atomic energy:
Boosting private sector investment in social infrastructure through revamped viability gap funding scheme of Rs 8100 crore, said FM.
We will establish a research reactor in PPP mode for production of medical isotopes. This will promote welfare of humanity through affordable treatment for cancer and other diseases, the minister added.
Indian private sector will be a co-traveller in India's space sector journey. Will provide a level-playing field for private companies in satellites, launches and space-based services, Nirmala Sitharaman said.
Sitharaman stated, the private sector will be allowed to use ISRO facilities and other relevant assets to improve their capacities. Future projects for planetary exploration, outer space travel, etc. to be open for the private sector.
Atomic Energy-related reforms; link India's robust start-up ecosystem to the nuclear sector - technology development and incubation centres will be set up for fostering synergy between research facilities and tech entrepreneurs, she said on an endnote. 
Last Updated May 16, 2020, 6:16 PM IST