Video: A son's tribute to IAF history and his 'fauji' father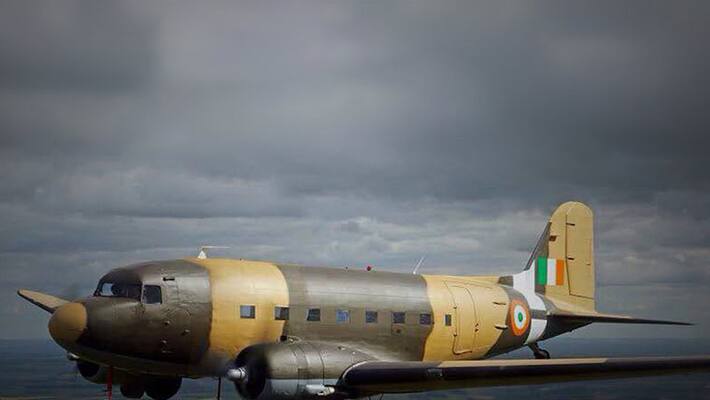 Rajya Sabha member Rajeev Chandrasekhar's six-year-long attempt to preserve an important piece of Indian Air Force (IAF) has finally paid off. Keen to see  the vintage Douglas D3 aircraft (popularly known as Dakota) in IAF colours in the Indian skies, Chandrasekhar purchased one of these flying machines as scrap in Ireland and got it restored to flying condition in the UK. He wanted to gift the aircraft to the IAF for it be inducted in its heritage fleet.
However, the former defence minister AK Anthony had repeatedly refused the offer claiming that such an offer was unfeasible because it had no precedent. The new Rakhsa Mantri Manohar Parrikar has reversed that decision and accepted the Dakota.    

There were two reasons why Chandrasekhar was keen on the Dakota project.

The hardy Dakotas have a proud history of service in the Indian Air Force. They were inducted in the 1940s and were in use till the mid-1980s. The aircraft was put to extensive use in independent India's very first military conflict with Pakistan over Kashmir in 1947. In the Sino-Indian War of 1962, the aircraft was instrumental in airlifting of troops, weapons and supplies to the high mountains.

"It is important that this heritage is preserved and showcased for future generations of Indians, and serve as an inspiration for youngsters to participate in our air force," wrote Chandrasekhar to Anthony while making his offer.

The other reason was personal. His father, Air Commodore MK Chandrasekhar flew the Dakotas for nearly three decades. He wanted, on his father's behalf, to see a fully functioning Douglas D3 back in IAF colours, and inducted into the Vintage Fleet.

The wait is over. Welcome back, Dakota!
Disclosure: Rajeev Chandrasekhar is chairman of Jupiter Capital, which has investments in Asianet News Network Private Limited that publishes Asianet Newsable
Last Updated Mar 31, 2018, 6:57 PM IST