Ram Temple Bhoomi Pujan: PM Modi says Ram Mandir a new era, calls temple catalyst for unity
Prime Minister Narendra Modi has called the Ram temple construction dawn of a new era, saying centuries of wait has finally ended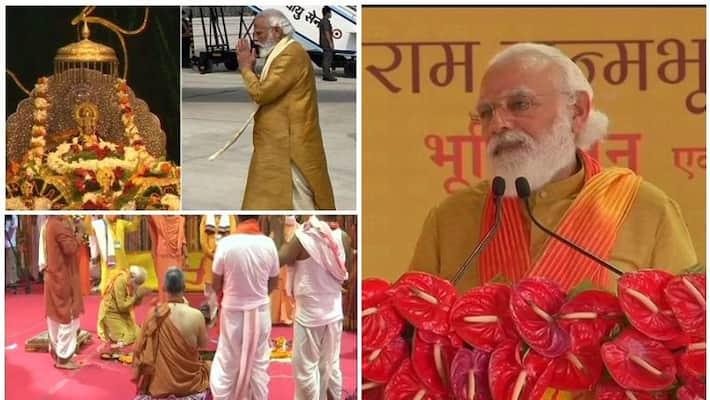 Ayodhya: Prime Minister Narendra Modi laid the first brick of grand Ram Temple in Ayodhya at 12:44 pm, as per the 'muhurat' for 'Bhoomi Pujan'.
PM Modi unveiled a plaque with significance of the day's event. He also released the commemorative postal stamp.
He began his address by chanting 'Siya Var Ram Ki Jai' thrice and said today marks the end of ages of wait.
"I express gratitude to all citizens of this nation, Indian diaspora across the world and all the devotees of Lord Ram on today's pious occasion. Today marks the culmination of years of resolve, dedication and struggle," PM Modi said.
"'Jai Siyaram' resonates not only in the city of Lord Ram but throughout the world today. Ram Mandir will be a modern symbol of our culture and nationalist feelings. The temple will open up new economic opportunities for the region."
"Lord Rama made social harmony the cornerstone of his rule. He learned from Guru Vashistha, Motherhood from Shabari, Cooperation with Lord Hanuman and Vanvasi brothers, and gained trust from the subjects. He also gladly accepted the importance of a squirrel," he said.
"Lord Rama resides inside the hearts of all of us. I believe that this grand Ram Temple to be built in Ayodhya, like the name of Lord Rama, will reflect the rich heritage of Indian culture. I believe it will inspire the entire humanity till eternity."
He added, "We have to ensure that the message of Lord Rama and the Ram Temple, the message of our thousands of years of tradition reaches the whole world continuously."
"Rama stands for modernity, openness of thought. We'll have to remember that whenever mankind believed in Lord Rama, progress took place. Whenever we deviated from the path, doors to destruction opened. We'll have to keep everyone's sentiments in mind. We've to ensure everyone's development with support and trust of all," he stressed.
"I believe that this grand Ram temple to be built in Ayodhya, like the name of Shri Ram, will reflect the rich heritage of Indian culture. I believe it will inspire the entire humanity till eternity. Social harmony was the core principle of Lord Ram's governance. Ram is everywhere, Ram belongs to all," PM Modi said.
On an ending note, PM Modi reminded all countrymen to wear masks and maintain social distancing to fight the coronavirus.
Earlier, addressing the gathering after the Bhoomi Pujan rituals, UP CM Yogi Adityanath thanked PM Modi for fulfilling the dreams of generations of Indians who could not see the realisation of their dreams in their lifetime in the form of the Ram Mandir.
"Under the leadership of PM Narendra Modi, the power of India's democratic values and its judiciary has shown the world that how things can matter by resolving peacefully, democratically and constitutionally," he added.
Meanwhile, RSS chief Mohan Bhagwat who was a special guest at the event said, "So many people had sacrificed, they couldn't be here physically. There are some who couldn't come here, Advani ji must be at his home watching this. There are some who should've come but couldn't be invited because of the COVID-19 situation."
He further said, "There is a wave of joy in the whole country today. It is a pleasure to have centuries of fulfilment. The greatest joy is to make India self-reliant, the self-confidence of which there was a lack of self-realisation is being established today."
"Our country believes in 'Vasudeva Kutumbakam' i.e world is our guest. This nature of our countrymen can find solution to every problem. We believe in taking everyone along. Today is a new beginning of a new India," RSS chief added.
Last Updated Aug 5, 2020, 2:38 PM IST