Ram Mandir foundation: PM Modi to place 22.6kg silver brick in Ayodhya; here are brick cost, photos
PM Modi will lay a silver brick in the Ram Mandir foundation. He will attend the Bhoomi Pujan on August 5 in Ayodhya. Here are all the details about the ceremony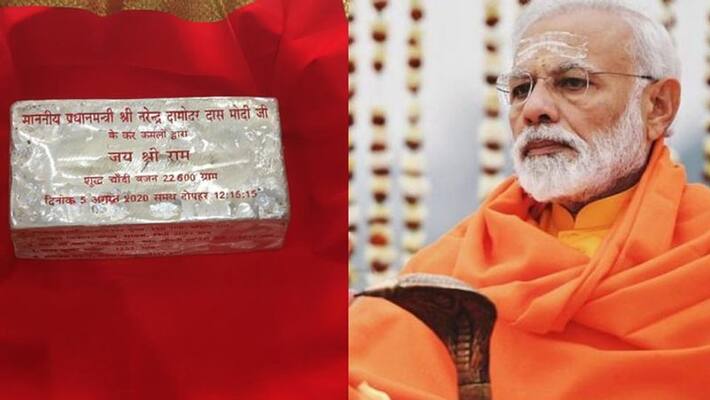 New Delhi: The Bhoomi Poojan (groundbreaking ceremony) for the Ayodhya Ram Temple will happen on August 5 (Wednesday). The construction work for the Ram Mandir will begin on that day.
Prime Minister Narendra Modi has been invited for the event. PM Modi will lay a silver brick in the temple foundation during the Bhoomi Pujan. The brick weighs 22.6 kg and is worth Rs 15 lakh. The picture of the silver brick is going viral on social media.
What is inscribed on the brick? 
PM Modi's full name has been inscribed on the brick. Along with PM Modi's name, the date and time of Bhoomi Poojan have also been inscribed on the brick. The weight of the brick is also mentioned on it.
200 dignitaries invited
200 people have been invited for the Bhoomi Poojan in Ayodhya. Social distancing norms will be followed during the ceremony. It is being said that along with PM Modi, Union home minister Amit Shah, defence minister Rajnath Singh, senior BJP leader LK Advani, 150 others have been invited.
Supply of soil and water starts
The supply of soil and water from holy sites for Ram Janam Bhoomi has started. According to Kameshwar Choupal, a member of Ram Janam Bhoomi Trust, due to coronavirus (COVID-19) crisis, devotees cannot visit Ayodhya but are sending water and soil packets via speed post.
 
Also watch: We know India is battling enemies like the dreaded Covid-19 & a conniving China. But there is a bigger enemy, and that one lies within. 
Find out more in #TheNewsableDecipher
Last Updated Jul 28, 2020, 6:11 PM IST