Rajasthan: Fearing horse-trading, CM Ashok Gehlot shifts MLAs to Jaisalmer
On the MLAs moving to Jaisalmer, Rajasthan CM Gehlot said, 'I will be in Jaipur. The ministers will be here as well. Most people will be coming and going. There will be no compromise on governance. I am doing a daily video conference related to corona. I have controlled the law and order situation, but saving the government from getting toppled is also important'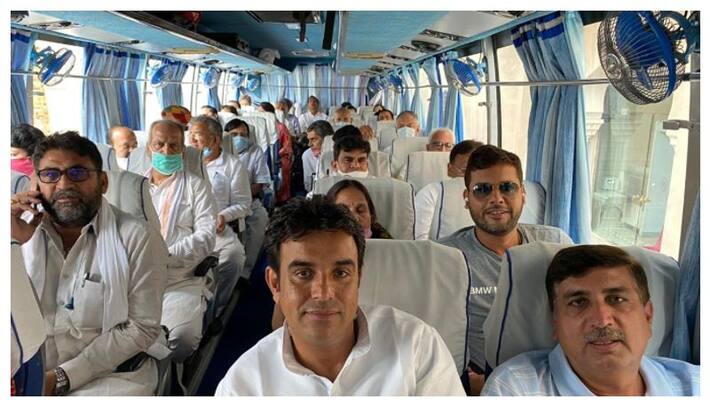 Jaipur: Amid the ongoing political tussle in Rajasthan, chief minister Ashok Gehlot has shifted his MLAs. With the ever-increasing risk of horse-trading, the Congress MLAs have been moved some 570 kilometers away from the capital Jaipur to Suryagarh Palace Hotel in Jaisalmer.
Fifteen ministers and 73 MLAs including Gehlot shifted there on Friday (July 31). Four more MLAs are expected to reach Jaisalmer today (August 1) while Gehlot could return to Jaipur. Fourteen MLAs including six ministers from the Gehlot camp are currently not in Jaisalmer. Among them are three sitting MLAs - Parasram Moradia, Master Bhanwarlal Meghwal, and Babulal Bairwa. Apart from six ministers, the three MLAs, who are unwell and the Speaker, the remaining four MLAs are expected to reach Jaisalmer today. The Assembly Session will begin on August 14. Till then, the MLAs are expected to be in Jaisalmer. 
There are many reasons why the MLAs were moved from Jaipur to Jaislamer. The central agencies are more proactive in Jaipur. The government suspects that a big plot could be hatched at the Fairmont Hotel in Jaipur, where the MLAs had stayed for 18 days. Demonstrations had started in Jaipur. The government wanted a place where there was less movement. In Jaipur, the family members and the relatives of the MLAs had started paying a visit. The government wanted to avoid that. There was a consideration of moving the MLAs from Jaipur to Sawai Madhopur but Jaisalmer was chosen as it is a border area and it is not easily accessible to outsiders. It is being told that Gehlot has faith in Goddess Tanot of Jaisalmer. Preparations are underway for the Goddess darshan.
On the MLAs moving to Jaisalmer, Gehlot said, "I will be in Jaipur. The ministers will be here as well. Most people will be coming and going. There will be no compromise on governance. I am doing a daily video conference related to corona. I have controlled the law and order situation, but saving the government from getting toppled is also important."
Meanwhile, a Public interest litigation (PIL) has been filed in the Rajasthan high court to stop the salary and allowances of the MLAs of the Gehlot and the Sachin Pilot factions who have stayed in hotels. Vivek Singh Jadoun, who has filed the petition, says that due to the coronavirus (COVID-19) pandemic, the financial condition of the state is not good, but the MLAs are staying in hotels instead of going to their constituencies.
Also, the voice samples of Union minister Gajendra Singh in the case of horse-trading and the voice samples of MLA Bhanwarlal Sharma will be taken. The Special Operations Group (SOG) of the Rajasthan Police has said that the FSL (Forensic Science Laboratory) report of viral audio of horse-trading has come. Based on the investigation so far, it would be correct to take voice samples of the minister and the legislator, it said. 
Last Updated Aug 1, 2020, 2:30 PM IST