Rajasthan Election 2023: Rashtriya Loktantrik Party releases first list of 10 candidates
Rajasthan Election 2023: Hanuman Beniwal, the party's convenor and Lok Sabha MP, is also running for the seat of Khinvsar. The party list states that Pukhraj Garg, the current MLA for Bhopalgarh, and Indira Devi Bawri, the MLA for Merta, will be contesting in the elections.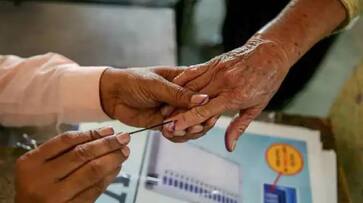 The Rashtriya Loktantrik Party (RLP) has released its first list of 10 candidates for the upcoming assembly elections in which party convenor and Lok Sabha MP Hanuman Beniwal will also contest from the Khinvsar seat. According to the party list, sitting MLA from Bhopalgarh Pukhraj Garg and MLA from Merta Indira Devi Bawri will contest the elections.
Narayan Beniwal, the MP's brother, is the Khinvsar MLA. He did not receive a ticket from Khinvsar from the party.  In the 2019 Lok Sabha elections, the RLP was a part of the BJP-led National Democratic Alliance (NDA), but they broke away when the Centre imposed the divisive agricultural legislation.
The RLP has given tickets to Lachharam Badrada from Parbatsar, Revatram Panwar from Kolayat, Badrilal Jat from Sahada, Umedaram Beniwal from Baytu, Lalchand Mund from Sardarshahar, Mahesh Saini from Sanganer and Ajay Trivedi from Jodhpur city.
In the 2018 assembly elections, Hanuman Beniwal became victorious from Khinvsar. But he did win the Nagaur Lok Sabha seat in 2019. The RLP's Narayan Beniwal won the by-election for the position. For the state's 2023 assembly elections, the RLP and the Azad Samaj Party (Kanshi Ram), led by Chandrashekhar Azad, have declared their partnership.
Earlier this month, Hanuman Beniwal had said the RLP expects to put up a close fight on around 100 of the total 200 assembly seats in Rajasthan. Polling in Rajasthan is due on November 25. The counting of votes will be be done on December 3.
 
Last Updated Oct 28, 2023, 2:53 PM IST