Pranab Mukherjee asked son to bring jackfruit from his Bengal village before getting admitted to hospital
Less than a week before former President Pranab Mukherjee was put on ventilator support, he had called up his son with a request to bring jackfruit from his own village in Mirati in West Bengal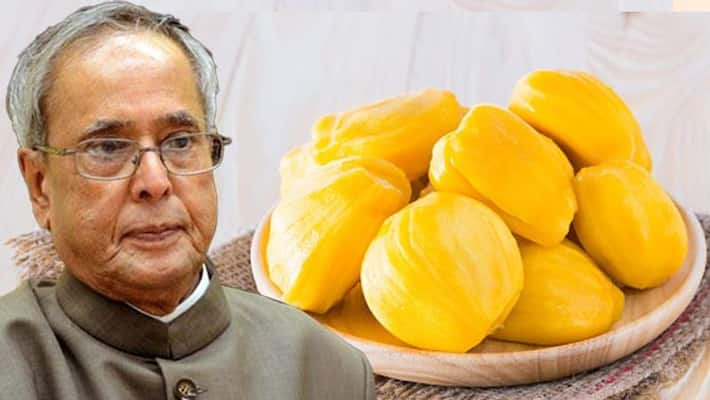 Kolkata: Pranab Mukherjee, one of the stars of Indian politics, managed to overcome all the hurdles in the Congress party. But apart from all this, he is a true Bengali. He maintained his Bengali culture in his accustomed life of Delhi.
His eating and drinking habits truly resembled that of a Bengali. A few days before he was admitted to a hospital, the former president wanted to eat jackfruit from his village in West Bengal.
Mukherjee, 84, asked his son to bring jackfruit from his village Mirati in Kirnahar of Birbhum district. His son Abhijit Mukherjee went to Delhi by train with a ripe jackfruit weighing about 25 kg from Mirati village, for his father. This was stated by former Congress MP Abhijit himself in an interview.
Abhijit reached Delhi by train with jackfruit for his father. In this context, he said, his father also loves to travel by train. After his son came to Delhi, Mukherjee ate the jackfruit. "Dad was very happy," said son Abhijit. Although Mukherjee has diabetes, after eating jackfruit, fortunately, his sugar level did not increase.
Mukherjee is currently admitted to the Army Research and Referral Hospital in Delhi. The former president fell at home last Sunday (August 9) and sustained a head injury. He had to undergo brain surgery at the hospital on the night of August 10 to remove the blood clots in his head.
He tested COVID-19 positive before the surgery. His health has been deteriorating since the surgery. But slowly, he is responding to the treatment, his son said.
He tweeted, "My father is a warrior. He is responding slowly to treatment and all his important critical health issues are getting stable. I urge every well-wisher to pray for my father's speedy recovery. We need them."
On Thursday (August 13), a medical bulletin from the Army Research and Referral Hospital said Mukherjee's health had not improved. He has currently gone into a coma. However, his heart function, blood circulation in the body, blood pressure is stable. He has been kept on life support.
Abhijit said, "Since Baba was once the defence minister, all his medical reports are with the doctors of the army hospital. This was the reason why he was taken to the Army Research and Referral Hospital in Delhi Cantonment. So far, I have seen him four times after wearing the PPE kit and taking all the necessary protective equipment. The last time I saw him, he was breathing normally."
 
Last Updated Aug 14, 2020, 1:26 PM IST