Prakash Raj apologizes to actor Siddharth after pro-Kannada activists disrupt press conference in Bengaluru
Actor Siddharth left a press conference in Bengaluru due to disruptions by pro-Kannada activists. The event was marred by interruptions and protests, leading Siddharth to exit. Actor Prakash Raj later apologized for the incident on behalf of Kannadigas.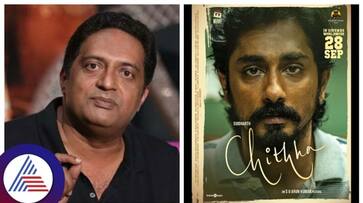 Actor Siddharth abruptly left a press conference in Bengaluru due to disruptions caused by members of a pro-Kannada organization. The actor was in the city to promote his film 'Chithha,' which is titled 'Chikku' in Kannada. However, the press conference was spoiled by interruptions and protests from the pro-Kannada group.
As Siddharth attempted to address the audience and commence the press conference, members of the organization entered the venue and demanded that the event be halted. Despite their disruptions, Siddharth proceeded with his speech.

Actor Prakash Raj complains against Bengaluru YouTube channel, accuses of threatening his life
The pro-Kannada group continued to create a disturbance, citing concerns about the timing of the event and insisting that Siddharth express support for the Cauvery movement. Faced with the ongoing disruptions, Siddharth chose to exit the press conference.

Chithha REVIEW: Is Siddharth's latest film worth watching? Read THIS now
Reacting to the incident, Actor Prakash Raj has apologised to the actor Siddharth on "behalf of Kannadigas" after the press conference in Bengaluru was disrupted by pro-Kannada activists. 
He wrote on Platform X (formerly Twitter) - "... Yes.. ours .. but .. all the incompetent political parties that could not solve this problem for decades .. without questioning the leaders .. without taking to task the MPs who did not put pressure on the Central Govt .. it is wrong to torture the helpless common people .. artistes. On behalf of Kannadigas 🙏🏿🙏🏿🙏🏿Sorry #Siddharth #justasking"
Last Updated Sep 30, 2023, 3:28 PM IST