Postman walked through forests to deliver letters for 30 years; MP Rajeev Chandrasekhar, netizens praise Sivan
Netizens and Rajya Sabha MP Rajeev Chandrasekhar praised Tamil Nadu postman D Sivan who walked through forests to deliver letters for 30 years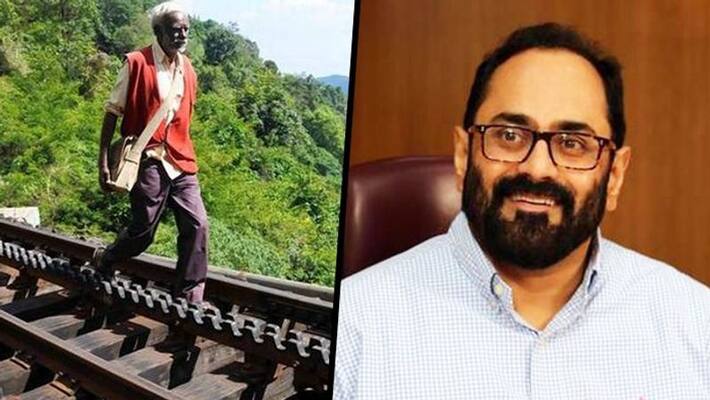 Bengaluru: An elderly postman from Tamil Nadu is being hailed as a hero on social media for his dedication to his job. Postman D Sivan, who retired earlier this month, was praised on Twitter after an IAS officer shared his story online.
Braving not just thick forests and tough terrains, but also possible attacks by wild animals, Sivan trekked 15 kilometres almost every day for 30 years to deliver letters to a remote area of Tamil Nadu.
Sivan mostly walked along the Nilgiri Mountain railway track, trekking from the Hillgrove Post Office near Coonoor and delivered letters as well as pensions for plantation workers who live in nearby areas, according to local reports.
Working in one of the remotest regions, he had to walk through tunnels and forest areas, often encountering wild animals during the course of his service to the India Post.
IAS officer Supriya Sahu took to Twitter on Wednesday (July 8) to laud the postman who did his duty with "utmost dedication"
"Chased by wild elephants, bears, gaurs, crossing slippery streams & waterfalls he did his duty with utmost dedication for 30 years till he retired last week," tweeted Supriya Sahu, with a photo of the man.
Rajya Sabha MP Rajeev Chandrasekhar took to Twitter to laud the hardworking postman's service to the India Post.
He wrote, "Wonderful example of dedication n responsibility in government  - of what being in public service is about #Respect #Salute #DSivan Thank u @supriyasahuias @rsprasad @PMOIndia @CMOTamilNadu (sic)."
Many on social media in the comments section praised Sivan for his dedication and thanked him for his service, while others said that his service should be recognised with an award.
 
Last Updated Jul 9, 2020, 11:38 AM IST