Poor Mumbai air quality: BMC threatens to shut construction projects
Mumbai is currently witnessing construction at over 6,000 sites, with the Air Quality Index (AQI) surpassing 200, indicating "poor" air quality. The BMC's actions come in response to the alarming pollution levels in the city, sparking discussions on how to mitigate the issue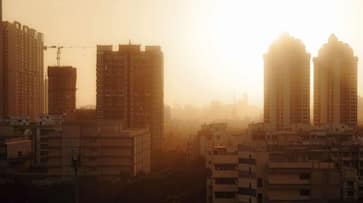 Amidst worsening air quality in Mumbai, the Brihanmumbai Municipal Corporation (BMC) has issued a stern warning, stating that construction, whether on private or government projects, would be halted unless adequate measures to control dust and pollution are implemented. Presently, construction is underway at a staggering 6,000 sites across the city, as reported by municipal commissioner Iqbal Singh Chahal.
According to data from the Central Pollution Control Board, the Air Quality Index (AQI) in various areas of the city had crossed 200, categorizing it as 'poor.' Chahal, who is currently serving as the civic body's administrator due to pending elections, convened a meeting with all stakeholders to address the concerning levels of air pollution in the city.
Mumbai's air quality worse than Delhi, dips to 156 due to construction
Chahal emphasized, "At all these places where construction is ongoing, dust- and pollution-control measures should be implemented. Otherwise, construction will be stopped, whether it's private or government work."
Congress leader Ravi Raja, the former opposition leader in the BMC, criticized the lack of action on pollution mitigation plans. He pointed out that Mumbai had the worst AQI among Indian cities on Thursday, despite the BMC's announced mitigation plan from March 2023. Raja noted the adverse health effects on the population, particularly children and the elderly, who suffer from chronic obstructive pulmonary diseases.
The BMC announced that it would release standard operating procedures and guidelines for improving air quality by the following Monday. Chahal proposed several measures, including mandatory 35-foot iron sheet enclosures around construction sites and covering under-construction buildings with green cloth or jute sheets on all sides. 
Additionally, sprinkler systems must be installed at all construction sites within 15 days, and anti-smog guns within 30 days.
The BMC plans to deploy anti-smog guns on 50 to 60 major roads. Moreover, experts from the Maharashtra Pollution Control Board and BMC will inspect refineries, the Tata power plant, and the RCF plant to verify pollution control measures. Random samples from these facilities will be collected and chemically analyzed to ensure compliance with pollution standards.
The BMC emphasized that the deteriorating air quality occurred only two weeks after the monsoon season ended and that both the central and Maharashtra governments were taking note of the situation. 
Acknowledging the adverse effects of climate change on air quality in the Mumbai metropolitan area, government agencies responsible for metro, road, and other projects were directed to enclose their construction sites and provide sprinkler systems and anti-smog guns. Chahal also stressed the need for proper covering and load adherence for vehicles transporting construction debris, with stringent action against non-compliant vehicles.
Last Updated Oct 21, 2023, 8:11 AM IST