Pooja Bumper BR-94 Lottery 2023 announced; Check prize structure, draw date and more
The Pooja Bumper BR-94 was released by Kerala Finance Minister K N Balagopal on Thursday (Sep 21). The draw will take place on November 20.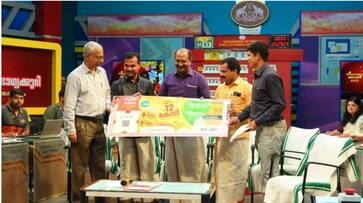 Thiruvananthapuram: Soon after the Onam Bumper results, the next Pooja Bumper BR-94 was announced on Thursday (Sep 21). The official ticket was released by the state's Finance Minister K N Balagopal. During the Navratri celebration, the Kerala Lottery Department conducts the Pooja Bumper lottery.
This year, the Government has increased the first prize money from Rs 10 crores to Rs 12 crores. Four people will get the second prize of one crore each. The third prize is Rs.10 lakh (two prizes per series for 10 people) and the fourth prize is Rs.3 lakh each for five people (one series). The fifth prize is Rs 2 lakh.
Also, many other prizes worth Rs 5000, Rs 1000, Rs 500, and Rs 300 are waiting for the lucky ones.
There is also an increase in the rate of the ticket. Last year, the ticket price was Rs 250, however, this year it is Rs 300.
The draw will be held on November 20.
Meanwhile, the Government of Kerala on behalf Lottery Department declared the "Thiruvonam Bumper BR 93 Result ". Kerala Lottery Result 2023 for Onam Bumper BR.93 was drawn on September 20 in Gorky Bhavan Near Bakery Junction Thiruvananthapuram at 2 pm. The first prize worth Rs 25 crore was won by the ticket number TE 230662. The winner will receive around Rs 17.5 crore after a 30 per cent income-tax deduction.
 
Last Updated Sep 25, 2023, 10:29 AM IST