Police detain BJP leaders for lockdown violation in Bengal during protest over 'corruption of TMC'

BJP leaders staged a sit-in protest over the corruption of TMC leaders. However, police detained them for lockdown violation.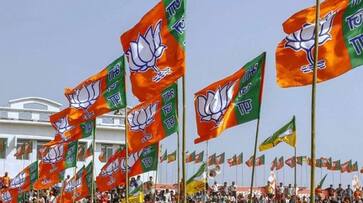 Since the beginning of the lockdown, TMC leaders have been accused of corruption across West Bengal. Opposition has also accused the government of withholding information on the 'real' number of COVID-19 cases and the number of deaths related to it.
BJP leaders and workers had travelled to the Siliguri SDO office on Tuesday morning to submit a memorandum protesting these two issues. After that, as they were about to take up a sit-in protest in front of the SDO office, local police stopped them. BJP leaders including district president Praveen Agarwal, general secretary Raju Saha, vice presidents Bani Pal, secretaries Kanhaiya Pathak and Prosenjit Pal and councillor Malati Roy were detained.
However, even after taking them away, they continued with their protest inside the station. Slogans against the ruling party were shouted within Pradhan Nagar Police Station.
"Bodies are being dumped across the state. Poor people are not getting rations. They are not getting the food items provided by the Centre. They (state administration) did not even help the Central delegation. Information about coronavirus patients are being withheld. We are protesting against all these", said, BJP district president Praveen Agarwal. He also claimed that they were protesting in accordance with all the rules.
State tourism minister and TMC leader Gautam Dev said, 'It was inappropriate to participate in such a protest in a Red Zone area during the lockdown. It wasn't right at all. Prime Minister is teaching the people about the lockdown rules, but his party members are gathering in the streets to protest'.
Last Updated May 5, 2020, 7:54 PM IST