PM's pet projects Yoga, Naturopathy find no place in National Commission for Indian System of Medicine Bill
Karnataka's leading personality Veerendra Hegde has sought PM Modi's intervention to include Yoga and Naturopathy in National Commission for Indian System of Medicine Bill as the commission has ignored Yoga and Naturopathy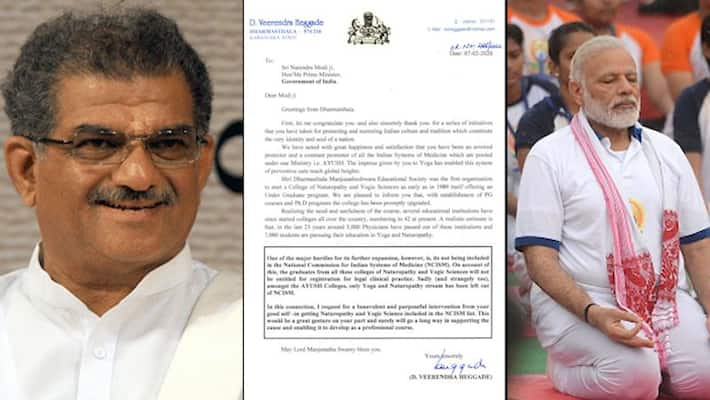 Bengaluru: In a carefully drafted letter, Karnataka's leading personality Veerendra Hegde, the hereditary administrator of world famous Dharmasthala Temple, has highlighted that the Indian government has ignored Yoga and Naturopathy under National Commission for Indian System of Medicine Bill introduced by the department of Ayush. 
Interestingly, PM Modi believes and follows Yogic science and Naturopathy. 
In the letter penned by Veerendra Hegde, he has said that due to non-inclusion of Yoga and Naturopathy in the National Commission for Indian System of Medicine Bill, the students will suffer the most.
"On account of this, the graduates from all these colleges of Naturopathy and Yogic Science will not be entitled for registration of legal clinical practices. Sadly, (and strangely too,) amongst, the AYUSH colleges,Yoga and Naturopathy streams habe been left out by NCISM," Hegde's letter said. 
Some of the top doctors from the field fund it ironic that the AYUSH department has recognised Homeopathy, Unani, Sidda and other practices, but has ignored Yoga and Naturopathy.
"We are coming forward with reforms and regulation, we want fake doctors to get exposed. Yoga and Naturopathy are followed by many. And PM Modi too is a proponent of Yoga. Former CM Siddaramaiah was admitted here for Naturopathy treatment for ten days," said a Naturopathy doctor. 
With AYUSH department neglecting Yoga and Naturopathy, MPs like Shashi Tharoor, Manish Tewari, Adoor Prakash, SS Ramasubbu, S Senthilkumar and others have written to PM Modi seeking his intervention to include Yoga and Naturopathy in NCISM.
Last Updated Mar 19, 2020, 3:36 PM IST