PM Modi shares home-cooked lunch box with party workers
PM Modi ate lunch from teh box he brought from home after the BJP booth-level meeting at Varanasi
All party workers were asked to get their own lunch during lunch pe charcha
BJP posted the photo of PM eating his lunch with fellow party workers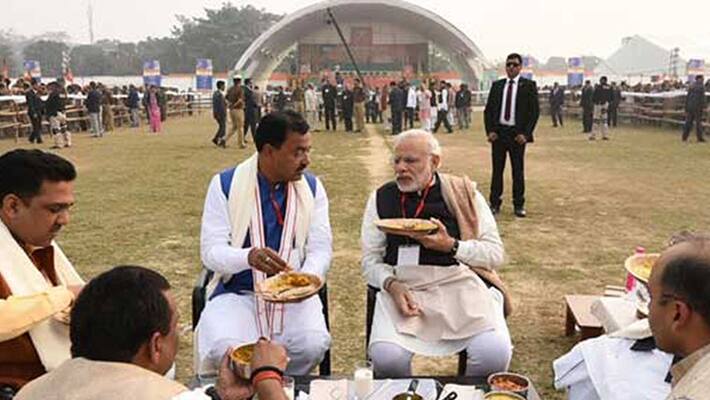 PM Modi won the hearts of his party workers as he sat with them and had his lunch from the tiffin box in Varanasi.
Modi had been to Varanasi to address the booth-level workers of the party, ahead of the local body elections there. Sources said that the party workers were asked to get their own lunch boxes. So, the PM too joined his fellow party workers at the event called 'lunch pe charcha' and connected to the party workers emotionally as well.
The 26,000 BJP workers joined Modi for lunch at DLW Gorund in Varanasi. 
Speaking after the lunch, PM said, "I am one among the party workers. All were asked to get tiffin boxes for lunch. So I also got my lunch box."
The BJP has posted the photo of PM having lunch from the tiffin box on social media.
Never mind, more than what was in the lunch box, it was the fact that PM brought his lunch from home was the speciality.
Last Updated Mar 31, 2018, 7:03 PM IST