Pegasus probe: Congress claims victory after SC ruling, says democracy being crushed
Prime Minister Narendra Modi and Union Home Minister Amit Shah are not above the law and the nation, Rahul Gandhi said.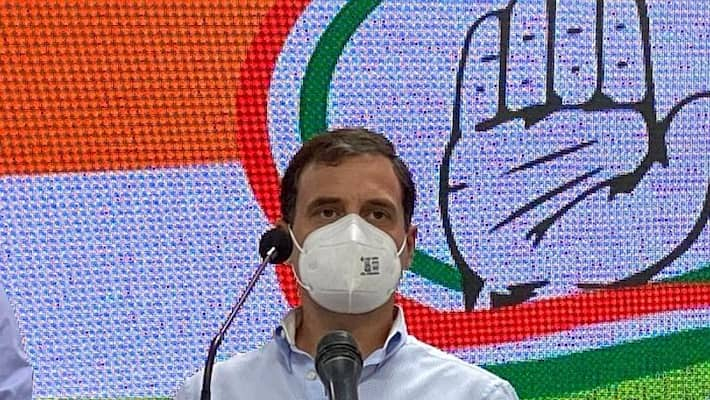 Stating that the order passed by the Supreme Court on Wednesday was in sync with what the Congress party has been demanding since the Pegasus controversy erupted earlier this year, Rahul Gandhi lambasted the Centre and accused Prime Minister Narendra Modi and Union Home Minister Amit Shah of crushing the democracy. 
On Wednesday, the Apex court, in its ruling, said that the government cannot get a free pass every time the spectra of national security are raised. It constituted a probe committee into the allegation of the use of Pegasus software for unauthorised snooping that comprises of three technical members and monitored by retired Justice RV Raveendran. 
Also Read: Do you know how much it costs to infiltrate and deploy Pegasus on a phone?
Talking to media persons in New Delhi, Gandhi said, "Pegasus is an attempt to crush Indian democracy. It is a big step that the Supreme Court has said that it will look into this matter. We want it to be discussed in Parliament."
In a reply to a question, the senior Congress leader said, "Either the Prime Minister or the Home Minister would have had ordered for the snooping. No third person can order on it." He further said that Prime Minister Narendra Modi and Union Home Minister Amit Shah were not above the law and the nation. 
Also Read: Pegasus Spyware: What is a zero-click attack & how to evade it?
The Wayanad MP said that there is a deeper problem associated with the Pegasus scandal. "It is one thing to use Pegasus to find out about terrorism and national security, but if the Prime Minister is using this as a personal tool & the data is arriving on the PM's desk, then that's fully criminal," he said, adding that the Congress party will raise the issue once again in Parliament.
He also questioned the government whether the data of election commission, judges, ministers and opposition leaders were used by any other country. If so, Rahul said. this would signify that the government is attacking national security. 
The independent probe committee that the Apex court has formed includes former 1976-batch Indian Police Service officer Alok Joshi, Sub Committee in (International Organisation of Standardisation/International Electro-Technical Commission/Joint Technical Committee) Chairman Sundeep Oberoi, Amrita Vishwa Vidyapeetham (School of Engineering) Professor Prabaharan P, Gujarat-based National Forensic Sciences University (Cyber Security and Digital Forensics) Dean Naveen Kumar Chaudhary and Indian Institute of Technology-Bombay (Computer Science and Engineering) Associate Professor Ashwin Anil Gumaste.
Also Read: Apple releases software patch for flaw linked to Pegasus spyware
Last Updated Oct 27, 2021, 7:12 PM IST