Our govt may be sacked if we don't release water to Tamil Nadu: Karnataka CM Siddaramaiah
Chief Minister Siddaramaiah discusses the Cauvery water dispute, warning against water flow interruptions. Protests in Bengaluru demand no water release to Tamil Nadu. Two committees will address water distribution, as the state faces water shortages, prioritizing drinking water and reviewing Supreme Court formulas.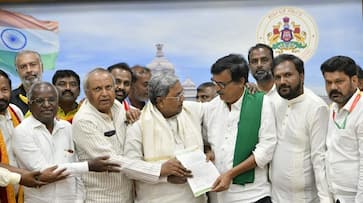 Chief Minister Siddaramaiah has addressed the ongoing Cauvery water dispute, emphasizing the need to keep the Cauvery River flowing without interruption. He cautioned that any attempt to halt the water flow could lead to the central government taking control of reservoirs, possibly resulting in contempt of court charges and government removal.
Siddaramaiah's statements came after discussions with leaders representing farmers, Dalit communities, labour groups, and pro-Kannada organizations who had organized a protest in Bengaluru. Their demand was clear: Cauvery water should not be released to Tamil Nadu. Siddaramaiah received their petition at the Home Office Krishna.

'Exposes your dubious politics...' MoS Rajeev Chandrasekhar attacks Karnataka CM over his Cauvery row jibe
In the state, the total water requirement is 106 TMC (thousand million cubic feet), but only 50 TMC is currently available. Siddaramaiah stressed the critical need to prioritize drinking water, which requires 30 TMC, leaving 70 TMC for crop irrigation, with an additional 3 TMC allocated for industries.
To address the issue, two committees will review the situation and issue directives regarding Cauvery water distribution. Initially, the order was to release water in Biligundlu. Under normal conditions, there's a requirement to release 177.25 TMC of water annually, while the state's total demand is 284.85 TMC. Siddaramaiah explained that the Supreme Court had not yet formulated a "no-difficulty" formula, prompting the need for two committees to oversee the matter.
Kuruburu Shanthakumar, a farmer leader, stated, "An order is coming out that will hit the people of Karnataka. People are worried. The government should take a decision in favour of farmers. The goat hunting project should be given quick attention."

Karnataka ready to resolve Cauvery issue outside court with PM's intervention': CM Siddaramaiah
Mukhyamantri Chandru, the AAP State President, said, "The authority's judgment is unscientific. Our claim should be done as vigorously as Tamil Nadu. It is wrong to suggest to release water even if there is no solution to the problem. A legislative session should be called immediately and a decision should be taken to not release water."
Siddaramaiah also noted their protests during Cauvery Authority meetings, citing the scarcity of available water. He revealed that an application had been submitted to the Supreme Court concerning this matter.
Last Updated Sep 30, 2023, 12:03 PM IST