Onam 2023: PM Modi, Kerala CM, other political leaders extend festival greetings
Leaders including President Droupadi Murmu, Prime Minister Narendra Modi and Kerala CM Pinarayi Vijayan conveyed their Onam wishes on the 10-day festival.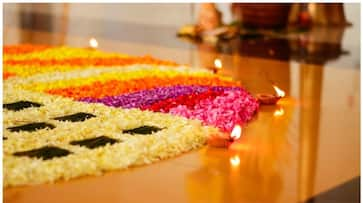 President Droupadi Murmu, Prime Minister Narendra Modi, Governor Arif Mohammed Khan and Kerala Chief Minister Pinarayi Vijayan on Tuesday (August 29) extended their warm greetings to the people on 10-day Onam festival.
Through their messages shared on various platforms, these leaders urged people to embrace the joy of Kerala's harvest festival and wished for a future full of prosperity.
Article 35A took away key fundamental rights, observes CJI DY Chandrachud
Prime Minister Modi took to X (formerly Twitter) to convey his wishes and said, "Onam greetings to everyone! May your lives be showered with good health, unparalleled joy and immense prosperity. Over the last many years, Onam has become a global festival and it beautifully showcases the vibrant culture of Kerala."
President Murmu joined in extending good wishes to citizens, saying, "On this auspicious occasion, we express our gratitude to Mother Nature for the countless bounties. May this harvest festival usher in prosperity and the spirit of harmony among all."
CM Vijayan said Onam embodies the timeless values of equality and fraternity and added that these values give impetus to the struggle to recreate the same conditions of peace and prosperity. Governor Khan urged the people to "join hands to spread the melody, charm and sparkle of Onam across the globe as Kerala's unique message of love, equality and harmony."
Onam 2023: Know Thiruvonam date, significance, puja rituals and shubh muhurat
Expressing his sentiments, Tamil Nadu Chief Minister MK Stalin emphasized that the festival provides a chance to reaffirm India's core values of equality, brotherhood, and progress. He conveyed his heartfelt wishes on the occasion of Onam, highlighting the festival's significance for the people of Kerala, who celebrate it with fervor and unity.
Rooted in ancient mythology, the festival traces back to a captivating legend. The narrative unfolds in the historical context of the southern state, where the benevolent Asura (demon) king, 'Mahabali', held sway. In his era, a harmonious equilibrium prevailed, with equality prevailing among all, and the concepts of deceit and thievery were alien to the society.
Last Updated Aug 29, 2023, 10:51 AM IST