Ola, Uber made available for non-COVID-19-related medical emergencies
In a bid to ease the inconvenience emerging out of lockdown due to COVID-19, Kanataka government has tagged along with Ola and Uber to address travel issues during emergencies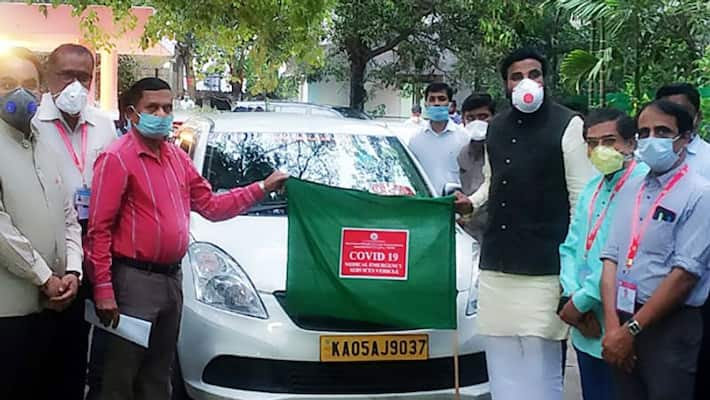 Bengaluru: Amid the coronavirus lockdown, many have not been able to go out to get basic needs like medicines or visit hospitals. People who have to undergo dialysis and treatment for cancer are finding it tough to travel due to lockdown. 
In order to ensure that people with medical emergencies do not face any difficulty during the lockdown, the Karnataka government has tied up with Ola and Uber to ensure people can travel to the hospital for treatment.
Each vehicle (cab or taxi) will have a display on the front and back in red letters which will read: Department of Health and Family Welfare Services, Medical Emergency Service Vehicle (Non-COVID). 
"
B Sriramulu, health and family welfare minister said, "Just like how ambulances are serving people amid the COVID-19 lockdown, Ola and Uber have been pressed into service which will tend to emergencies concerning non-COVID-19 patients. When there is an emergency, if people call 9154153917, these cabs will arrive in no time and take them to the hospital and drop them back home."
The initiative was flagged off by Sriramulu, who said that these cabs can only be used for non-COVID-19-related cases. 
1) The service is only for patients, who have medical emergencies and have been advised non ambulatory prolong treatment only. This would mean dialysis, chemotherapy, organ transplant, radiation therapy, etc. 
2) The vehicles will only shift patients to and from hospitals.  
3) The charges shall be minimum and no additional service charges will be applicable. 
4) The vehicle can be booked by calling dedicated numbers 9154153917, 9154153918, 9154153919 or by logging on to Uber App Under "UBER Essential" and Ola App under "Ola Emergency".
5) The vehicles will not be allowed to operate ACs and all windows will have to remain open. 
6) Both driver and patient's attender will have to wear a mask properly. 
7) A report will have to be submitted to the deputy director, EMRI regarding the number of people shifted on a daily basis. Details of the persons - name, contact number, address, etc will also have to be mentioned.
Last Updated Apr 8, 2020, 4:48 PM IST