'No boarding school! It's German President's seat': German Envoy to India points error in an ad
Germany's Ambassador to India, Dr Philipp Ackermann shared the picture of the ad which talks of a "Mega gathering of India's Leading Boarding Schools", but features an image of the Bellevue palace in Germany.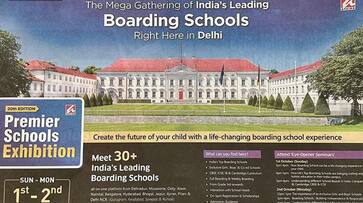 Dr. Philipp Ackermann, Germany's Ambassador to India, raised the issue of a deceptive advertising in an Indian publication depicting the German President's mansion in Berlin on Saturday. Ackermann quickly took to social media platform X on Saturday and shared his take on the misleading advertisement. 
The advertisement shared a Mega gathering of India's Leading Boarding Schools. However, the image used for the gathering was not of any boarding school but of the German President's palace. The Bellevue Palace in Germany's Berlin is the Indian equivalent of the Rashtrapati Bhavan. 
He also clarified in a humorous way that no child would be admitted to the presidential palace.
The German Ambassador to India wrote, "Dear Indian parents – I found this in today's newspaper. But this building is no boarding school! It is the seat of the German President in Berlin. Our Rashtrapati Bhavan as it were. There are good boarding schools also in Germany – but here, no child will be admitted."
Dr Philipp Ackermann is often known for his hilarious takes and as a result of that is quite popular in the Indian social media circles. Many users on platform X were impressed with the German Ambassador's humor with a pinch of seriousness to it.
The Indian advertiser and the newspaper were also called out for being careless with the image used. Users on X also noted the constant practice of advertisers using misleading images to lure customers toward their selling products.
A user on platform X wrote, "This is how gullible students and parents are lured. This practice is rampant, and most of the private educational institutions use pictures of places, no way related to them."
"Disgraceful, to say the least! The sponsor of this ad should be taken to task. Clearly, no due diligence/proof reading was done before it was cleared for print." Commented another user demanding strict action.
Last Updated Sep 30, 2023, 5:24 PM IST