Nirmala Sitharaman announces last tranche of financial package
Union finance minister Nirmala Sitharaman announced the last tranche of announcements in relation to the financial package stated by PM Narendra Modi. Sitharaman asserted that the government is turning crises into opportunities.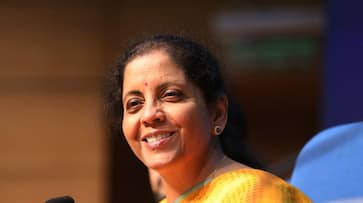 New Delhi: In the last tranche of announcements in relation to the financial package stated by PM Narendra Modi, finance minister Nirmala Sitharaman asserted that they were turning crises into opportunities.
Here are the highlights:
•    85 per cent tickets in Sharmik Special trains are paid by Centre.
•    20 crore women Jan Dhan account holders have received direct cash transfers.
•    Rs 4,100 crore has been released to states for Covid-19 containment
•    SWAYAM PRABHA DTH channels will support and reach those who do not have access to the internet. Three channels were already earmarked for school education, now another 12 channels will be added.
•    Focus of this announcement is on MNREGA, healthcare, education, ease of doing business, PSU related policies, state governments and related resources.
FM Nirmala Sitharaman said, "Technology-driven education to be the focus- PM eVIDYa programme for multi-mode access to digital/online education is to be launched immediately. Top 100 universities will be permitted to automatically start online courses by 30th May 2020."
•    Govt to allocate additional Rs 40,000 crore under MNREGA to provide employment boost.
•    Health reforms and initiatives: Public expenditure on health to be increased.
Nirmala Sitharaman said, "Health expenditure will be increased and investment at grassroots level will be ramped up for health and wellness centres, with particular focus on aspirational districts. All districts will have infectious diseases blocks in hospitals. Public health labs will be set up at block levels."
•    Top 100 universities to be permitted to start online courses by May 30.
Nirmala said, "200 new textbooks have been added to e-Pathshala. Provision has been made for telecast of live interactive sessions for teachers and students. States are coordinating to share educational air-time."
•    Minimum threshold to initiate insolvency proceedings raised to Rs 1 crore from Rs 1 lakh.
•    Companies Act violations including minor technical and procedural ones decriminalised.
In this regard, the FM said, "Timely action was taken during Covid-19 to reduce compliance burden under various provisions of Companies Act. Board meetings were allowed to be conducted online. Rights issues can be resolved digitally along with major reforms in corporate governance."
•    Private companies which list NCDs on stock exchanges not to be registered as listed companies.
•    Govt to announce a new public sector policy-
A list of strategic sectors requiring presence of PSEs in public interest will be notified. In strategic sectors, at least 1 enterprise to remain in public sector but private sector to be allowed. In other sectors, PSEs to privatized, said the FM.
•    Revenue deficit grants given to states
"The states have seen a sharp decline in the revenue. We have consistently extended help to the states. Revenue Deficit Grants to states of Rs 12,390 crore was given on time in April and May despite Centre's stressed resources; devolution of taxes of Rs 46,038 in April given fully," stated the finance minister.
Last Updated May 17, 2020, 1:16 PM IST