Modi scores over 90 percent, Rahul blames his marks on ATM queues
In Parliament school, PM Modi stands at 90%
Rahul Gandhi, on the other hand, scored 44%
Sitaram Yechury is believed to have failed the English test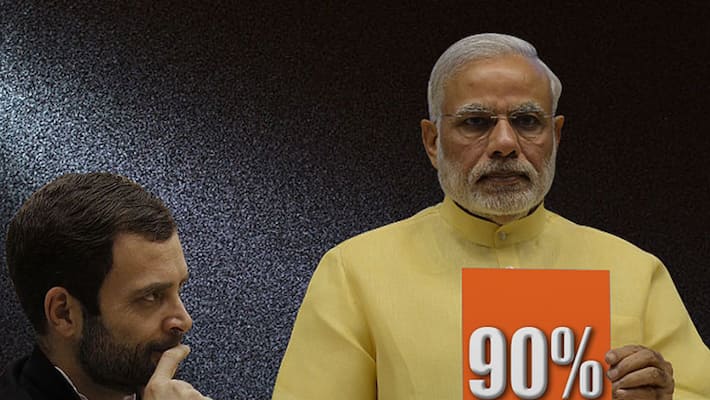 The results of the half-yearly exam at the Parliament House school have been announced, and Narendra Modi has stood first, scoring over 90 percent in nine out of the ten subjects. His lowest score was 86 percent in one paper. But Rahul Gandhi scored only 44 percent in the exam.

Sources told Tenali Rama that Principal Sumitra Mahajan has taken a stern view of Rahul Gandhi's performance and told him to pull his socks. She said his guardian Sonia Gandhi that Rahul spent considerable time outside the class, near the Gandhi statue, with other students whose performance also has been below par. 

"He spends a lot of time with friends like Arvind Kejriwal these days, which is not good for him," Sumitra Mahajan is believed to have told Sonia Gandhi. 

Kejriwal is learnt to have bristled at being accused of being bad company. He claimed that if he also got admission to the CBSE syllabus school instead of the Delhi state board syllabus school where he is enrolled now, he would score higher marks than Modi. He also alleged that the question paper was prepared by Modi himself and he even checked his own answers. 

Rahul Gandhi has also protested, pointing that even Modi hardly attended class. At this point, Mahajan is believed to have retorted that as the class topper, Modi had some privileges. 

Rahul's another grouse was that unlike Modi, he had household chores to attend to. He pointed out that instead of spending time with his books, he had to spend considerable time waiting in queues at ATMs to withdraw money to buy grocery.

"Narendra Modi is a suit-boot man. He does not know what it is to stand in an ATM queue for hours together," Rahul is believed to have said. 

In the other section at the school, Sitaram Yechury too is believed to have failed the English creative writing test in which he wrote the story of the crocodile and the fish. "If you use such imagination, you will be left behind," Yechury's teacher PJ Kurien remarked. Another student Ghulam Nabi Azad's paper was cancelled after he wrote answers on Political science in the test paper on economics. 

Agitated students have now decided not to let the school function unless Modi also attends classes. Alternately, another teacher Mamata Banerjee has offered to give tuition at a makeshift venue at Jantar Mantar. 

(Tenali Rama is a satirical series by senior journalist T S Sudhir)
Last Updated Mar 31, 2018, 6:45 PM IST