Modi's 15-year YouTube milestone: Content creators greet PM with 'Modi, Modi' chants during Fanfest - WATCH
Prime Minister Narendra Modi celebrates his 15th anniversary on YouTube, addressing content creators at YouTube Fanfest India 2023, highlighting his channel's popularity, and encouraging collaboration for social initiatives.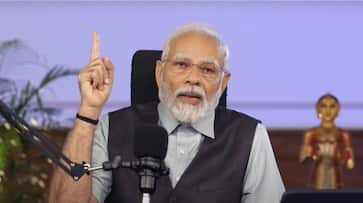 Prime Minister Narendra Modi marked his 15th anniversary on the video-sharing platform YouTube, where he addressed fellow YouTubers during the YouTube Fanfest India 2023 event. During his address, PM Modi emphasized that he is "no different" from them and is "just like them." He noted, "For the past 15 years, I have also been connected to the country and the world through a YouTube channel, and I also have subscribers in substantial numbers."
The prime minister currently boasts 17.9 million subscribers on his channel, and he conveyed his thoughts to approximately 5,000 creators who tuned in for his YouTube address. The response among the youth when PM Modi was introduced with 'Modi, Modi' chants demonstrated his popularity among the youth.
PM Modi expressed his appreciation for the impact of content created by YouTubers on the people of India, stating, "For years, I have been observing how your content impacts the people of our country."
He emphasised the potential for collaboration, saying, "Together, we can bring transformation in the lives of a vast population in our country."
The prime minister reflected on his YouTube journey, mentioning the numerous videos on his channel. He highlighted that the 'most satisfying' moments for him were when he engaged with students on topics such as exam stress, expectation management, and productivity.
During his brief address, PM Modi touched on important initiatives, including "Swachh Bharat," digital payments, and "Vocal for Local." He encouraged YouTubers to inspire more people to participate in these campaigns.
"Make an emotional appeal that we will buy the product that has the fragrance of our soil, which has the sweat of a labourer or artisan of our country. Whether it's Khadi, handicrafts, handloom, or anything else, awaken the nation, initiate a movement," PM Modi requested the content creators.
"Consider putting a question at the end of each episode or provide action points to do something. People can do the activity and share it with you. This way, your popularity will also grow, and people will not just listen but also engage in doing something," he told them.
In conclusion, the prime minister said, "Subscribe to my channel and hit the bell icon to receive all my updates."
Last Updated Sep 27, 2023, 9:42 PM IST