Milestone for Karnataka: Doddaballapura-Hoskote route introduces state's first boothless toll on STRR
The Doddaballapur-Hosakote section of the Satellite Town Ring Road (STRR) in Bengaluru introduces toll charges starting November 17. This 34.15 km segment, a part of the larger 288 km STRR, will implement toll rates for various vehicles, featuring a boothless toll plaza and emphasizing FASTag compliance for seamless passage. The larger project by NHAI aims to decongest Bengaluru's traffic.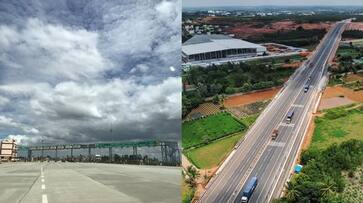 The Doddaballapur-Hosakote section, an integral part of the Satellite Town Ring Road (STRR), will introduce toll charges effective from November 17. Spanning 288 kilometres, the STRR links Bengaluru with neighbouring towns like Dabaspet, Devanahalli, Hoskote, and Ramanagara. Once fully operational, this road network will redirect long-distance commercial vehicles away from Bengaluru, allowing traffic between satellite towns to bypass the city.
A significant project costing Rs 17,000 crore, the STRR is being developed in 10 segments by the National Highways Authority of India (NHAI). The Doddaballapur Bypass-Hosakote section, covering 34.15 kilometres and completed in 10 packages, consists of four lanes with a capacity to accommodate 10,000 Passenger Car Units (PCU) per hour.

Bengaluru: Woman, two-year-old child killed after rented car rams into truck on NICE Road
Toll charges for this section were notified in a gazette dated November 2 and approved by the NHAI on November 9. The rates set are Rs 70 for a single trip by light motor vehicles and Rs 105 for a round trip within 24 hours. Buses and trucks are required to pay Rs 240 and Rs 360, respectively. The toll rates will remain in effect until March 31, 2024, and will be collected at the Nallur toll plaza, located near Devanahalli.

Why Bengaluru residents are concerned by Peripheral Ring Road Project
The STRR is set to host Karnataka's pioneer boothless toll plaza, eliminating manned toll counters. The process involves automatic scanning of the vehicle's number plate and weight within 50 meters of the toll plaza. Vehicles equipped with FASTag, adhering to all criteria, will have the boom barrier lifted for seamless passage. Those without FASTag will need to make cash payments. Additionally, vehicles exceeding 105% of the permissible weight will face double penalties, unloading excess load before continuing.
The ongoing project marks progress, with the Dabaspet-Doddaballapur section at 90% completion and anticipated readiness by January 2024, with toll collection beginning in February. NHAI's project director, KB Jayakumar, revealed that 13% of the Hoskote-Tamil Nadu border section's work has been finished. The Tamil Nadu border-Obalapur stretch, covering 179.93 km, is currently under construction or in the bidding phase.
Last Updated Nov 11, 2023, 2:07 PM IST