Massive NIA crackdown on Khalistanis; SFJ chief Gurpatwant Singh Pannu's assets in Punjab attached
NIA has attached two properties in Punjab. Searches were also conducted at Pannun's residence in Chandigarh. Pannun faces separate FIRs in Punjab and Himachal Pradesh for making threats and disturbing peace and communal harmony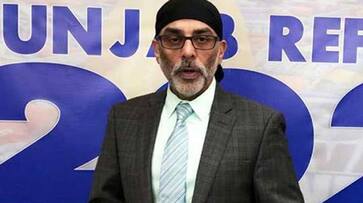 The National Investigation Agency (NIA) has attached two properties in Punjab owned by Gurpatwant Singh Pannu, the US-based founder of the banned separatist organisation Sikh for Justice (SFJ). Among the assets sealed include a 46-kanal (2.5 lakh sqft) agricultural property in Khankot in Amritsar district.
The central agency also conducts searches at Pannun's residence at Sector 15 in Chandigarh. 
To note, separate FIRs have been filed against Pannun, by the police in Punjab and Himachal Pradesh. These FIRs accuse Pannun of making threats and attempting to disrupt peace, stability, and communal harmony.
Who is Gurpatwant Singh Pannu?
Pannun, a law graduate from Panjab University, currently resides in Oakville on the outskirts of Toronto, Canada. Originally from Khankot village near Amritsar, his father, Mahinder Singh, was employed by the Punjab State Agricultural Marketing Board. Despite owning valuable property, including agricultural land in his village, Pannun is relatively unknown there, as he rarely visited.
Pannun, an attorney at law in the US and Canada, has been offering employment opportunities abroad and cash incentives for hoisting Khalistani flags on public buildings. 
He is one of the founders of SFJ, an organization that claims to be an international advocacy and human rights group. Pannun actively promotes and funds the secessionist Khalistan agenda abroad and encourages the youth in Punjab to hoist Khalistani flags on Independence Day.
Fund-raising by Defaming India
Despite being declared a terrorist and SFJ being banned in India since 2019 due to secessionist activities, countries like Canada, the UK, and the US, with sizable Sikh diasporas, have allowed the organization to engage in anti-India activities, including illegal referendums advocating for Punjab's secession.
Some members of the Indian diaspora acknowledge that individuals like Pannun are raising funds in the name of referendums while accusing Indian authorities of minority atrocities, particularly against Sikhs.
Pannun has been booked in 22 cases since 2017, including charges related to terrorism and sedition. Most recently, he faced sedition charges after SFJ activists wrote a pro-Khalistan slogan on a glass box covering the statue of the slain chief minister Beant Singh in Jalandhar.
Last Updated Sep 23, 2023, 1:38 PM IST