Mangalore air crash: On this day 10 years ago, 158 people died
Emotional tributes were paid to the 158 victims on the 10th anniversary of the Mangalore air crash. Air India Express flight IX 812 overshot Bajpe airport runway and crashed into a deep gorge, on 22 May 2010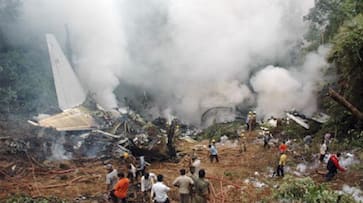 Mangaluru: Today is the 10th anniversary of the Mangalore air crash. 158 people lost their lives in the incident on this day in 2010.
In the accident, eight people survived when Air India Express flight IX 812 overshot Bajpe airport runway and crashed into a deep gorge. A total of 166 passengers including 135 adults, 19 children, four babies and six aircraft personnel were travelling onboard the ill-fated flight.
Every year, the district administration pays tribute to the departed souls in that plane crash, at a Memorial Park, near Kulur on Thannirbavi Road, Mangaluru, where bodies of few who couldn't be identified as they were charred beyond recognition, were buried at this memorial Park.
On the 10th anniversary of the fatal air crash, floral tributes were paid at the Memorial Park for the crash victims by district minister-in-charge Kota Srinivas Poojary, MP Nalin Kumar Kateel, deputy commissioner Sindhu Roopesh followed by Mangalore International airport director VV Rao, DCP Laxmi Ganesh, ACP Belliappa, Dr Murali Manohar C- commander of DK Home Guards, Ajay Indran- Joint GM of ATC at Airport, Mangaluru City Corporation commissioner Ajith Kumar Hegde, Ms Hazel Concessao- personal assistant to airport director, were among others who paid floral tribute to the victims, according to mangalorean.com.
Meanwhile, today, a Pakistan International Airlines (PIA) flight from Lahore to Karachi crashed near Karachi Airport. According to reports, the plane was carrying over 90 passengers. The aircraft crashed close to a residential colony near Karachi airport. Ambulances and rescue officials arrived at the scene to help residents. The footage of the incident shows plumes of smoke rising from the site of the crash. 
Last Updated May 22, 2020, 6:19 PM IST