Maharashtra: Ajit Pawar resigns from post of deputy CM? Devendra Fadnavis to address media shortly
Reports state Maharashtra deputy CM Ajit Pawar stepped down from his post ahead of the crucial floor test tomorrow. This development comes back as a major setback for the saffron party.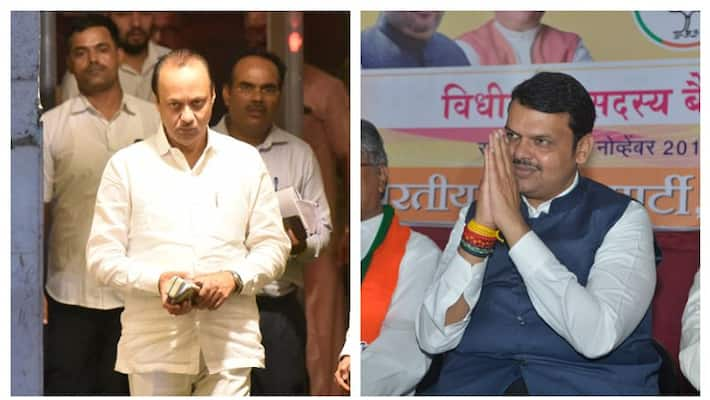 Mumbai: Maharashtra deputy chief minister Ajit Pawar, who stunned the NCP by engineering an alliance and a midnight coup with the BJP which saw Devendra Fadnavis return to power, has reportedly resigned just a day before the floor test ordered by the Supreme Court.
Fadnavis is slated to address media at 3.30pm when the announcement is likely to be made official. The development comes as a setback to the BJP, which was confident of winning the floor test tomorrow.
Earlier in the day, the Supreme Court ordered on the combined plea of Shiv Sena, Congress and NCP against the Maharashtra Governor's decision to swear-in Devendra Fadnavis as chief minister. The top court ordered that the Maharashtra floor test be held before 5pm tomorrow which will be conducted through open ballot and will be telecast live. The court said the floor test will be conducted by the protem speaker after the members take oath by 5pm tomorrow.
The Shiv Sena-NCP-Congress combine was pressing before the Supreme Court that the floor test be ordered today, which was opposed by Fadnavis and Ajit Pawar.
Sharad Pawar, Uddhav Thackeray, Mallikarjun Kharge among top alliance leaders were present at the Hotel Grand Hyatt on Monday for the major "show of strength" as proof of their combined strength in the 288-member Assembly.
Amid the high political drama in Maharashtra and fear of poaching of MLAs the NCP shifted its legislators from a resort to two other hotels in Mumbai ahead of tomorrow's floor test.
Speculation is rife that CM Devendra Fadnavis too might resign at 3.30pm today. 
Last Updated Nov 26, 2019, 3:12 PM IST