Madhya Pradesh government owns estate in Kerala's Wayanad; Here's how
The Beenachi Estate in Wayanad district of Kerala is owned by the Madhya Pradesh government. The estate was bought during the British era and continues to be owned by the MP government.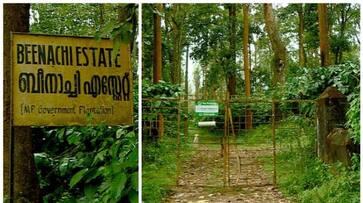 Wayanad: How the Madhya Pradesh government came to control Beenachi Estate in Wayanad? It is astonishing that the history of exchange dates back to the time of the British administration. Kozhikode Kollegal National Highway 766 lies next to Beanachi Estate. The Madhya Pradesh government owns the 550 acres of this estate, according to the board placed at the front gate of the estate. The making of the Madhya Pradesh government estate in Wayanad has a backstory.
Also read: Kerala Police stations to see another structural change; SHO duties to be handed over to sub-inspectors
Government records indicate that the estate is located along National Highway 212, close to Sulthan Bathery, and spans 554.28 acres (224.31 hectares) of land. The Provident Investment Company, a Madhya Pradesh government company, is the owner of the estate. Sulthan Bathery Village Office receives the taxes from the 44.660-hectare plantation that makes up the area.
District Panchayat President Samshad Marakkar said that people from North India and Madhya Pradesh were buying the land held by British citizens and completed the process as per the law of that time. Three North Indians purchased the estate from the British in February 1877. The transfer agreement was drafted in Mananthavadi, at the Deputy Collector's office. Muhammad Khan, Bahadur Haji, and Abu Muhammad purchased the estate from Edward Acunes and Samuel Cruzer. The new owners mortgaged the land to Provident Investment Company and obtained the money.
After failing to repay the money, Beenachi Estate was taken over by the Provident Investment Company, owned by the Gwalior dynasty. After the independence of India, the estate held by the Gwalior dynasty came under the government of Madhya Pradesh.
Last Updated Nov 9, 2023, 12:59 PM IST