Madhya Pradesh crisis: Kamal Nath gets a breather, Assembly adjourned till March 26 amid coronavirus outbreak
Madhya Pradesh Assembly was adjourned following an uproar created by the ruling Congress MLAs and the floor test was deferred. Governor Lalji Tandon left after reading a small statement on the first day of the Budget session.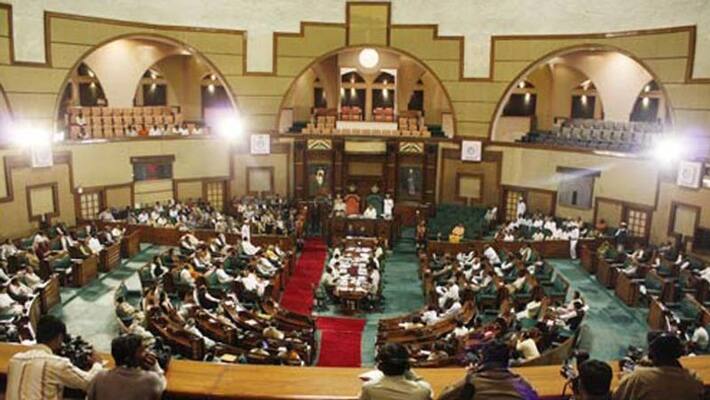 Bhopal: The Madhya Pradesh Assembly was adjourned till March 26 on Monday amid the demand by BJP MLAs to hold a floor test as directed by Governor Lalji Tandon.
Just after the brief address of the Governor, MLAs of the BJP raised the demand for a floor test, triggering an uproar.
Parliamentary affairs minister Govind Singh raised the issue of coronavirus threat in the country and mentioned the Central government's advisory.
The Speaker accepted Singh's plea and adjourned the House till March 26.
Prominent members, who reached the House included chief minister Kamal Nath, BJP vice president and MLA Shivraj Singh Chouhan, leader of opposition Gopal Bhargava and others.
Tandon had asked chief minister Kamal Nath to prove his government's majority after the resignation of 22 MLAs from the party. 
Chief whip of Congress legislature party, Govind Singh, spoke of the coronavirus outbreak in the Assembly, after which Speaker NP Prajapati adjourned the House till March 26.
According to Hindustan Times, earlier, reading a short statement on the first day of the Budget session, the Governor had said, "All must follow the rule under the Constitution so that dignity of Madhya Pradesh remains protected." He then urged the government to go for the floor test, but the statement led to an uproar and Tandon had to leave.
Madhya Pradesh plunged into a political mess after Jyotiraditya Scindia, a prominent face of the Congress, resigned from the party last week to join the BJP. Scindia's decision to leave the Congress was followed by the resignation of 22 party MLAs loyal to him. But Speaker NP Prajapati selectively accepted the resignations, hinting at conspiracies in store.
Last Updated Mar 16, 2020, 12:58 PM IST