Lockdown: Love blossoms while distributing food to needy, driver ends up marrying beggar
The lockdown has had several positive and negative stories surfacing but this one from Kanpur is all about how love blossomed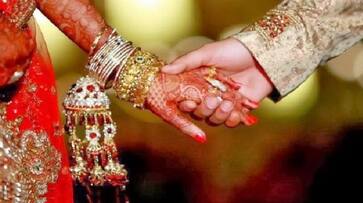 Kanpur: This is a special story about how love blossomed amid coronavirus pall of gloom. A real estate employee, who went to distribute food to the needy amid the coronavirus-induced lockdown, ended up falling in love with a downtrodden woman.
Anil, a driver with a real estate company was sent to distribute food to hungry, needy beggars on the roadside. However, fate had other plans as he fell in love and tied the knot with a woman named Neelam who was seeking alms.  
As per reports, Neelam said, "Anil used to come and distribute food in the area. As he was doing this duty as per his owner's instructions, he struck a conversation with me after seeing me take care of my mother in a makeshift tent on the roadside.
This incident piqued Anil's interest and he inquired with Neelam. She narrated her ordeal and stated that after her father's death, her brother and sister-in-law recently forced her out of the house along with her paralysed mother. With no idea what to do and no income, she started to beg to feed her mother. Hearing this, Anil's heart melted.
"He used to visit me daily and give food packets. Love blossomed. He proposed for marriage and I could not say no, as he is a good driver," Neelam said.
Anil's employer learnt about their relationship and took the initiative to convince Anil's family to welcome a beggar into their home.
The wedding was solemnised at an ashram on Thursday (May 22) and all social distancing and safety norms were followed. A picture and story of a driver and beggar falling in love has gone viral on social media. 
Last Updated May 26, 2020, 11:23 AM IST