Liquor sales begin: Alcoholics bite snakes, climb poles, even murder people in Karnataka
Liquor sales in Karnataka set the cash registers ringing. But the state has been home to attacks, deaths and bizarre incidents, ever since alcohol stores were opened after nearly 40 days of lockdown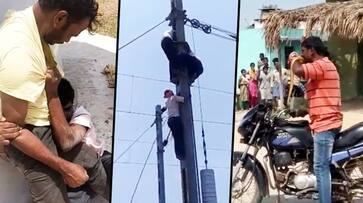 Bengaluru: Forty days after the resumption of sale of liquor, it's good news for state revenue as well as alcoholics. Karnataka cashed in Rs 190 crore revenue on Tuesday, but this comes with a heavy price in the form of murder, death and attack.
In the first case, two friends quarreled over petty issue after getting drunk at Bagalgunte Police limits in Bengaluru on Monday. Prabhu and his friend Karan Singh were engaged in fight and in the process Prabhu stabbed Karan Singh, who later died at the hospital and the accused is still at large.
In another incident, Srinivas (45), a physically challenged person, was hit with a heavy object on the head at a grave yard. It is said that a group of people from the nearby slum had bought liquor from Domlur. After drinking the whole day, due to difference of opinion, Srinivas was attacked with a wooden log by Santosh. Srinivas was rushed to the hospital, but he continued to bleed and eventually died at home on Tuesday.
A case has been registered at the Jeevan Bhima Nagar police station and the cops have detained the accused.
On the same day, Devdas (22), native of West Bengal, got drunk and fell into a drain and died on the spot at Sunkadakatte industrial limits. A case of unnatural death was registered.
In Karnataka's Gadag, two bikers collapsed and suffered injuries. The ambulance was called and the injured were shifted to the hospital.
At Chikkaballapura district, when ASHA worker Ravanamma arrived there for coronavirus survey at Shidlaghatta along with her husband, they were attacked by few residents, who were under the influence of alcohol. The police say, the attacker had some personal vengeance and under the alcohol, he attacked the ASHA worker and her husband.
At Gadag, two friends were engaged in a fight while under the influence of alcohol on Tuesday. Their video has now become viral.
"     
Bizzare:
In a bizarre incident, a tippler killed a snake at Musturu village of Kolar.
The accused is identified as Kumar, who, in an inebriated condition, grabbed a snake that was slithering by, and entered the village. He immediately started biting the snake to death.
Villagers, who witnessed the incident, captured this on their phone, but did not try to stop him.
However, Kumar killed the snake, and the villagers warned him for this cruel act.
" 
Miraculous escape:
A tippler was seen sleeping on an electric pole near Doddaballapur district of Karnataka. The man was in an inebriated state when he climbed the pole. Fortunately, there was no electricity supply and he was rescued.
Last Updated May 6, 2020, 10:41 AM IST