Liquor sale breaks all-time record in West Bengal; shop owners reluctant to home deliver alcohol
In the first three days of Lockdown 3 in West Bengal, Liquor sales broke all-time records. However, the Hotel and Bar Association is reluctant to opt for the online home delivery system.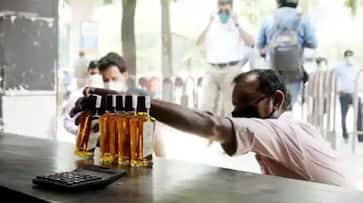 Liquor sales broke all-time records in West Bengal in the first three days of lockdown 3. Up to May 6, liquor worth Rs 108.16 crore was sold, according to Sushmita Mukherjee, the president of the Hotel and Bar Association of West Bengal. The revenue earned by the state government from this is nearly about Rs 70 crore.
The Union Home Ministry approved the sale of liquor across the country from Monday this week. On the first day, crowds of liquor lovers flooded shops all over the state. This triggered a panic of coronavirus spreading among many people.
In many places, shops had to shut to control overcrowding. In some cases, police had to resort to lathi-charge. Since then, the state government introduced home delivery of liquor by ordering online, in order to avoid crowds gathering. Sushmita Mukherjee has expressed doubts about the effectiveness of this process and claimed there were some problems in the method.
'In case of online delivery there is no area division. Now, if stores start to deliver liquor outside their locality, then it may create a dispute between shop owners, as it will be a loss for local stores in that area", she said, adding that "it will increase the chances of infection too".
According to her, it is easier for shop owners to sanitise the shop after every sale than to maintain the hygiene of the delivery person. For these reasons, shop owners are reluctant to accept the online home delivery process. The president of the Hotel and Bar Association also said, they would discuss the matter within the association and express their concern to the state government.
Sushmita Mukherjee thanked the administration for their cooperation. According to her, the crowd problem was temporary and the situation was created as the sale of liquor was closed for a long time. Since then the crowd has gradually decreased and the situation would return to normal, she opined.
Last Updated May 8, 2020, 6:05 PM IST