Law breakers running away?

India is a nation of laws and ALL foreign NGOs have to abide by FCRA, to receive funds.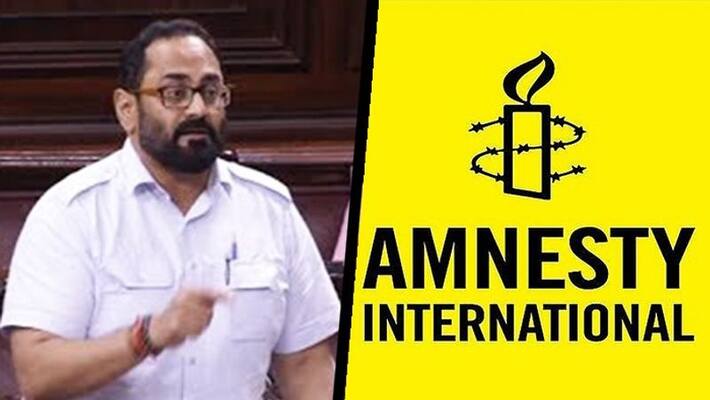 Amnesty International downed its Human Rights "business" in India after its operations and business model started crumbling under scrutiny of law. Very predictably, it has tried to create a smokescreen of a "Government Witchhunt" to cover its many legal violations. 
Its not the first time, a law violator has tried to play the victim card. And in this case, blaming the government's action, more specifically actions by the ED for its "adverse" reports. Amnesty leaves out that it had legal remedies that it did try in the courts and failed to stop this investigation.
Also read: Coronavirus: Serum Institute of India to produce additional 100 million COVID-19 vaccine doses for India
India is a nation of laws and ALL foreign NGOs have to abide by FCRA to receive funds. "FCRA, 2010 has been enacted by Parliament to consolidate the law to regulate the acceptance and utilization of foreign contribution or foreign hospitality by certain individuals or associations or companies and to prohibit acceptance and utilization of foreign contribution or foreign hospitality for any activities detrimental to national interest and for matters connected therewith or incidental thereto."
It has been the norm for decades now in India, that some organizations felt no need to either abide or respect Indian Law. That is the case with Amnesty. The questions being asked of Amnesty are serious questions – that would be asked of any foreign entity operating in a sovereign country and expectation for it to be operate in compliance with law.
The unravelling of Amnestys finances have revealed an organization that has been operating in blissful violation of Indian law – It has received only one FCRA approval and in Dec 2000. It has never received any renewal of its approval after the 2010 act as required nor its once in 5 years mandatory review and renewal. Despite being denied FCRA approvals many times, Amnesty has continued to receive moneys from abroad – using multiple entities like Amnesty International Foundation (AIF), Amnesty International India Private Limited (AIIPL), Indians for Amnesty International Trust (IAIT), Amnesty International South Asia Foundation (AISAF)  - all seemingly designed to evade either the scrunity or compliance with FCRA required of all lawful NGOs.
The facts about Amnesty are crystal clear – despite repeated denials from the Home Ministry over the years, it has brought in funds illegally into India. The Enforcement Directorate has made several other serious charges including profit making operations and dubious transfers within what was supposed to a non-profit NGO.
Without any doubt, the shutdown of Amnesty is a clear indication of a fear of this ongoing scrutiny of its conduct, during a decade of UPA, when it believed it was not accountable to any Indian law. The shattering of that delusion, that it was a power beyond Indian law  is cause for this smokescreen of Government witchhunt.
Beyond the dubious financing issues, Amnesty in India has had several other issues. An organization referred to Gita Sahgal some years ago in the Guardian Newspaper as an organization that had lost its moral bearing. A more recent Feb 2019 report talked about its widespread bullying, public humiliation, discrimination and abuses of power in its workplace.
It has used its "human rights" cover to be a front of motley crew of forces trying to promote a divisive agenda and violence for years. More recently, they played a particularly starring and visible role in stoking the anti-CAA protests – with a visible role in propagating that big lie that CAA was Anti Muslim. For an NGO, it has run a particularly vicious and hateful campaign against members of the Government, BJP and supporters of the BJP and those of the Hindu faith, getting away again and again with unsubstantiated and wild allegations and lies.
Amnesty has a long record of deliberate interference in other countries – from way back during Cold war times. It was always an organization with a political purpose to undermine nations. It served the purpose of the Western world for several years and then in early 2000, the Liberals, leftists and anarchists took over this organization, fundamentally changing its tactics and targets. In 2010, Gita Sahgal, daughter of Nayantara Sahgal and Grand niece of Jawaharlal Nehru left the Amnesty because amongst other things, its growing links with Islamic pressure groups. She described the current Amnesty's leadership as suffering from "ideological bankruptcy" and "misogyny".  In India, Amnesty has had a long dubious record of supporting practitioners of Leftist and Islamist violence -ranging from Naxalites, Anarchists to Terrorists – perhaps because it suits their tortured Left liberal dream of violent revolution. They have long enjoyed the protection of India's constitutional right to free speech and misused it to attack and conduct vicious campaigns against law enforcement and Armed forces in the name of Human rights - driving many dedicated security officers to despair and giving up.
Regardless of the spin of Government witchhunt, the fact is that Amnesty like every other organization and individual operating in India, has to respect and comply with Indian Law. If theres a message to be put out, it is this – that if u break the law in India, be prepared to face the consequences. Being a foreign NGO is not a free-pass anymore in India.
Rajeev Chandrasekhar is the Member of Parliament and National Spokesperson, BJP
Last Updated Sep 30, 2020, 1:20 PM IST