Kollywood director highlights India's sexism plague
Are Tamil actresses simple "fresh pieces" to titillate audiences?
Kollywood director G Suraj has openly stated this to be a fact.
Why can't India shun such sexist views and movies?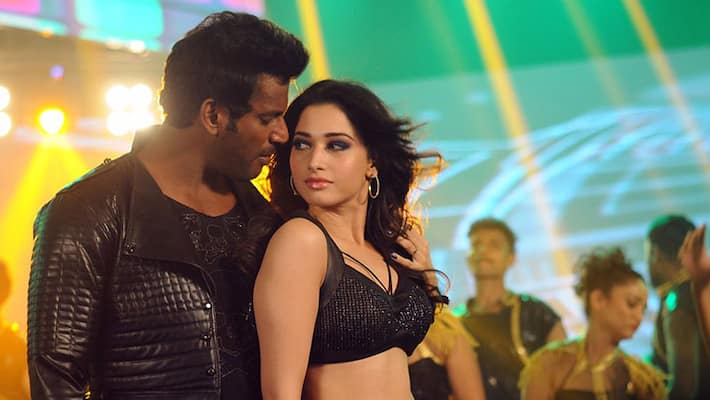 This Friday's release was Aamir Khan's much-awaited 'Dangal', the story of a father in Haryana who stands up to a society that believes wrestling is not for girls and that they should only be trained in household chores and married off early. Another movie that released on the same day was 'Kaththi Sandai' in Tamil starring Vishal and Tamannah, was the antithesis of 'Dangal'. 

'Kaththi Sandai', which translates to 'sword fight', celebrates stalking on screen, a problem with several Indian movies in the past. In its review, The Indian Express points out in its review how in one of the scenes in the movie, Vishal asks a rowdy to help find out if the character played by Tamannah is still single and a "fresh piece", a cheap term obviously meant to titillate the audience. 

Four days after the release of 'Kaththi Sandai', India has got more than a glimpse into the mind which created this kind of sick content. The film's director G Suraj, in a promotional interview, said, "We are a low-class audience. People give money to watch a hero fight and a glamorous heroine. I don't believe in a heroine clad in a saree. People are paying money, right? They are not watching a movie for free. They are paying money to watch Tamannah in a glamorous role. If they want to act, they can do it separately. But in commercial movies, they have to sizzle and be glamorous."

Speak to filmmakers in any industry and they would tell you that is they way the film business works. But at least Bollywood, to some extent, has moved on, writing significant roles for the likes of Vidya Balan, Deepika Padukone and Anushka Sharma in recent years. But the south Indian film industry, barring a few exceptions in Malayalam and Tamil, still sticks to derisively describing the female lead as 'eye candy', meant only for the song and dance sequences. In fact, Tamannah's own PR machinery refers to her as "milky beauty Tamannah". 

But what Suraj said next exposed his mindset. And if he is to be taken as a representative of his ilk - the Tamil film industry - it shows the rotten side of Kollywood. There is no reason why an example should not be made of Suraj by shunning him like the plague.

"If the costume designer comes to me with the heroine's clothes covering up to the knee, I tell them to shorten the length. They would repeatedly say that 'madam would be upset' but I insist and get it done," said Suraj. 

In short, Suraj had reduced Tamannah and all the heroines he has worked with so far to strippers, who are compelled to shed clothes in his school of filmmaking. 'The script demanded it' is just a silly excuse that is often put out.  

With 'Kaththi Sandai' in the eye of a storm, Vishal, who is also the general secretary of the Nadigar Sangam, the most important film industry body in Tamil Nadu tweeted, calling Suraj's statement unnecessary. Apologising to Tamannah for what she went through, Vishal said actresses showcase their talent and not their bodies. 

Fortunately, the actor who finds herself in the midst of this ugly controversy has not chosen to be politically correct in a male dominated industry. Tamannah, in a statement, demanded an apology from Suraj to her as well as to all women in the industry, taking objection to being "objectified as commodities". 

"I have been working in the south industry for over eleven years and have worn costumes which I have been comfortable with," said the 'Bahubali' actor.

Tamannah has received support from actor Nayanthara who showed Suraj his place.

"A heroine wears skimpy clothes in commercial cinema only if she is comfortable and the script requires it. And which audience is he speaking about who pay money to see heroines in bad light?" Nayanthara said in an interview.

After the tongue-lashing from Tamannah and Nayanthara and possibly some behind-the-scenes pressure put by Vishal, Suraj has apologised. But that is highly unlikely to change attitudes. Suraj and many like him will be careful the next time they speak but it does not mean it is going to change their way of thinking about their women colleagues or the manner in which they portray them on the big screen. The problem is that when such people have the power to depict women as they want, they end up doing more harm than good. 

But what about others not directly connected with 'Kaththi Sandai'. Suraj has been part of the industry since 1998 and has directed Karthi, another office-bearer of the Sangam as also top heroes like Dhanush and Sarath Kumar. 

What does India make of their silence? An aversion to accept the reality given many of the top actors also dabble in production and have a role to play in how the female leads are treated? Or a reluctance to expose the fault lines in the tinsel world?

Suraj is part of the world of make believe. The Tamil filmgoer can do without any of misogynistic beliefs of this sort finding currency in the name of entertainment. 
Last Updated Mar 31, 2018, 6:43 PM IST