'Khoon Ki Dalali': Rahul decides Army not above his politics
Rahul Gandhi declared that the PM was 'pimping' the blood of Jawans.
The Congress seems determined to make the surgical strike a political pawn.
The statement has already drawn widespread condemnation.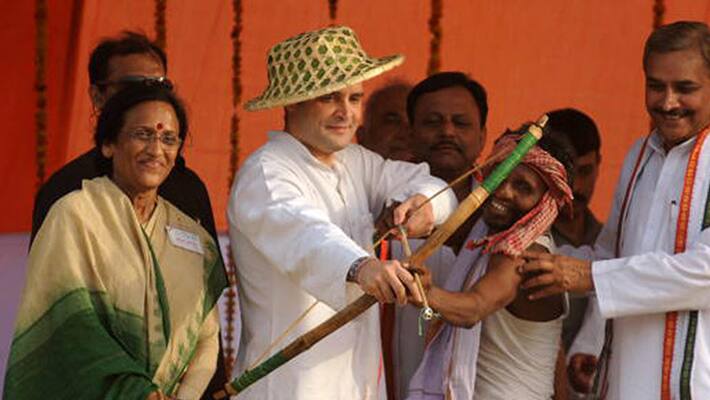 The Congress party, which had initially calmly congratulated the PM and the Army for the surgical strikes, seems to have decided that such niceties had a limited shelf life. 
Speaking at an event in Uttar Pradesh, the Gandhi family scion declared: "Humare Jawan hain jinhone khoon diya hai, jinhone surgical strike kiya. Unke khoon ke peeche aap (Modi) chhupe huye ho. Unki aap dalali kar rahe ho."
Translation: "It is our Jawans who have given their blood, who have conducted the surgical strike. You (Modi) are hiding behind them. You are pimping them (for your own purposes). 
Apparently, he is taking a leaf from his own mother's book, who, in 2014, in Uttar Pradesh, had called Modi a 'Maut ka Saudagar'. 
Whatever the political merits of such a statement, which has already drawn widespread condemnation from the public and political parties alike, one has to add this to the apparently unending list of Rahul Gandhi statements that are either mistimed or completely bonkers. 
If one has to pick just one from the steaming heap, in this context what leaps to the mind is that time when Rahul Gandhi claimed that Indira Gandhi gave Bangladesh its independence. Whether that is true or not, it does show that somewhere within him the knowledge does exist that decisive choices by the Prime Minister of this country can have profound and long-lasting impacts, even in the military sphere. 
But apparently, the Congress believes that only those of the Gandhi blood may make such choices. 
This is hardly a singular misstep. Congress party spokesperson, Sanjay Nirupam, had called the surgical strikes 'fake'. It would seem the Congress is gearing up to 'take on' the BJP, uncomfortable with the mileage the party was getting from the strikes. Pathetic, but true. 
The Congress, rather unashamedly for a party that has much to be ashamed of when it comes to India's relations with its neighbours, is demanding that the Indian military provide 'proof' that it had not cooked up a tale to help the ruling party. And even it is fine with the army, apparently it cannot stop itself from trying to make a few political points via military operations. 
Of course, when the Congress was in power the army was above such questions and no one was profiting politically from its actions. But now that the BJP is in power, no one, save for Rahul Gandhi, is above suspicion. 
It is inevitable that the Congress will now try to sweep this statement under the claim that it was 'attack' on the PM, and had absolutely nothing to do with the surgical strike or the Army as a whole. Either way, this is surely a new low in Indian politics, which is practically at the bottom of the barrel in any case. 
Indeed, why does Pakistan even need an army, when our own politicians do such a wonderful job of butchering our strategic actions. 
Such dialogues will certainly not help anyone in this country, but perhaps in Pakistan, as it happened when Arvind Kejriwal decided to add his nonsensical two bits, the headlines tomorrow will have a field day. 
Last Updated Mar 31, 2018, 6:54 PM IST