Khalistani terrorist Gurpatwant Singh Pannun 'wants to divide India, create many countries' - Report
According to a report, Khalistani terrorist Gurpatwant Singh Pannun, whose properties in Chandigarh and Amritsar were seized by the NIA last week, wants to create many countries by diving India.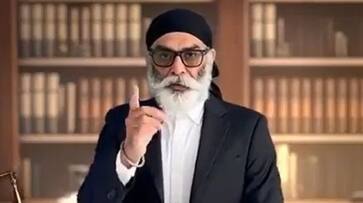 Khalistani terrorist Gurpatwant Singh Pannun, whose properties in Chandigarh and Amritsar were confiscated last week, reportedly seeks to create multiple countries by dividing India. According to an NDTV report quoting the National Investigation Agency (NIA) dossier on Pannun, the leader of the banned separatist group Sikhs For Justice "has challenged the unity and integrity of India by audio messages". The report further noted that the SFJ chief "wants to create a separate country for people of Kashmir... and create a Muslim country".
Gurpatwant Singh Pannun has been a wanted individual by the NIA since 2019 for his significant role in promoting and orchestrating terrorist acts to spread fear in Punjab and across India. The report stated that investigations also revealed that Pannun-led Sikhs For Justice "misuses cyberspace to radicalise gullible youth... instigates them to undertake terrorist activities and fight for an independent state of Khalistan". In 2019, the Indian government banned Sikhs For Justice.
In July 2020, the Union Home Ministry officially declared Pannun as a terrorist. However, Interpol rejected the Indian government's request for a Red Corner Notice on two occasions, citing insufficient information. More recently, Pannun has made threats against senior Indian diplomats and government officials in Canada, adding to the diplomatic tension between India and Canada over the killing of another Khalistani terrorist, Hardeep Singh Nijjar. Canadian Prime Minister Justin Trudeau's assertion that "agents" of the Indian government were involved in Nijjar's death has escalated the international dispute.
Gurpatwant Singh Pannun's background includes coming to Amritsar in 1947 during the partition. His family originates from the village of Khankot in Pakistan, and his parents are deceased, while his brother, Magwant Singh, resides abroad. Pannun holds a degree in law from Punjab University. The dossier on Pannun also reveals his intention to seduce Muslims and create a Muslim country named the 'Democratic Republic of Urdustan,' along with radicalising individuals in Jammu and Kashmir to facilitate their separation from the Indian Union.
According to security agencies, there are a total of 16 cases registered against Gurpatwant Singh Pannun in various locations, including Punjab, Delhi, Himachal Pradesh, Haryana, and Uttarakhand. Nine of these cases fall under the stringent Unlawful Activities (Prevention) Act, with four in Delhi, two in Punjab (Amritsar and Sirhind), one in Gurugram, Haryana, and another in Dharamshala, Himachal Pradesh. The ninth case was filed by the National Investigation Agency. Additionally, Pannun faces nearly two dozen other cases in Punjab, including three charges of sedition.
Gurpatwant Singh Pannun's criminal activities include offering a reward of US$2.5 million to anyone who could hoist the Khalistani flag at India Gate. He reportedly also offered US$1 million to any police personnel who prevented the hoisting of the Indian flag at the Red Fort on Independence Day in 2021. Furthermore, he has made several attempts to display Khalistani posters and flags at prominent locations in Punjab, Delhi, Uttarakhand, Himachal Pradesh, and Haryana.
In a recent operation, the NIA seized Pannun's residence in Chandigarh and agricultural land in Amritsar, effectively transferring ownership to the Government of India. These actions mark the latest developments in the efforts to address Pannun's involvement in separatist activities and his role in promoting Khalistan.
Last Updated Sep 25, 2023, 4:14 PM IST