Kerala: Three men arrested for misbehaving with woman passenger inside train in Kannur
Three men reportedly in a drunken state created a ruckus inside the Nagercoil-Mangaluru Central Ernad Express (16606) on Saturday (Sep 3). They allegedly misbehaved with a woman passenger until the train reached Kannur. All three men were taken into custody by the Railway Police.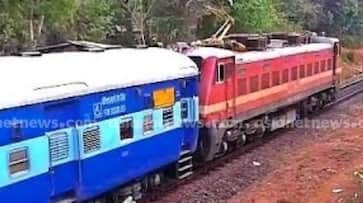 Kannur: Three men were nabbed by the railway police for allegedly misbehaving with a woman inside the Nagercoil-Mangaluru Central Ernad Express (16606) on Saturday. The incident happened in Valapattanam at around 2.45 pm. The accused have been identified as Mattool South natives T Fayaz (26), Muhammad Shafi (36) and C Abdul Vahid (35). They allegedly mistreated the woman inside the train's general coach while intoxicated.
Until the train arrived in Kannur, the woman claims the accused started harassing her, and they did so again at Valapattanam. She then pulled the chain and stopped the train. The youths were apprehended by other passengers and afterward handed over to the railway police. They were arrested for causing disturbance and nuisance inside the train.
Meanwhile, on Saturday night (Sep 2), another case of stone pelting on a train was reported in Kerala. Miscreants threw stones on the Netravati Express between Kumbala and Upala in Kasaragod. The glass of the S2 coach was broken by the stone that struck the door's window pane. The incident took place around 8.45 pm. However, no one was injured in the incident.
In the past, the Vande Bharat, Ernad Express, and Rajdhani Express between Kannur and Kasaragod region have all been attacked with stones. In the majority of these instances, the Railway Protection Force was effective in apprehending those behind it.
Also read: Stone-pelting on trains continues in Kerala; Vande Bharat, Rajdhani targeted
 
Last Updated Sep 3, 2023, 12:33 PM IST