Kerala: Student under observation over Nipah suspicion in Thiruvananthapuram
A BDS student is under observation in Thiruvananthapuram Medical College Hospital after developing symptoms of the Nipah virus amid outbreak in Kozhikode.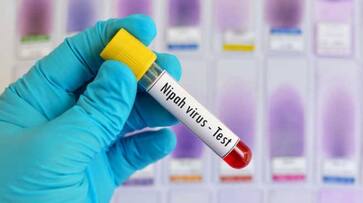 Thiruvananthapuram: Amid the Nipah outbreak in Kozhikode, a BDS student is under observation following a fever at Thiruvananthapuram Medical College Hospital. However, authorities informed that there is no cause for concern. The patient, who has a fever, is being monitored in a specially set-up facility of the hospital at the moment.
The student had sought treatment at the hospital on Tuesday morning. The patient's samples were taken, and they were delivered to the Pune Virology Institute.
Kerala Health Minister Veena George confirmed on Tuesday that four people in the state had contracted the Nipah virus. Of them, two are under treatment, and two have succumbed to the disease.
After the confirmation of Nipah, three expert teams appointed by the Central Government will reach Kozhikode today (Sept 13). A mobile testing team from the Pune Institute of Virology and a team from the Indian Council of Medical Research (ICMR) will reach Kozhikode today. The third team to reach Kozhikode consists of infectious disease prevention experts. They will work in coordination with health department officials.
Entry and exit will be restricted to 43 wards in 7 panchayats according to the district administration on Tuesday. 
Grama Panchayats & containment wards:
Ayanchery:  1,2,3,4,5,12,13,14,15
Maruthonkara:1,2,3,4,5,12,13,14
Thiruvalloor: 1,2,20
Kuttiady: 3,4,5,6,7,8,9,10
Kayakkodi: 5,6,7,8,9
Vilyappalli: 6,7
Kavilumpara: 2,10,11,12,13,14,15,16
Last Updated Sep 13, 2023, 9:36 AM IST