Kerala: Sabarimala temple doors opened for devotees for pilgrimage season
Kerala's Sabarimala temple doors have opened for pilgrimage season today. There was a heavy rush of Ayyappa devotees when the shrine opened at 5 pm.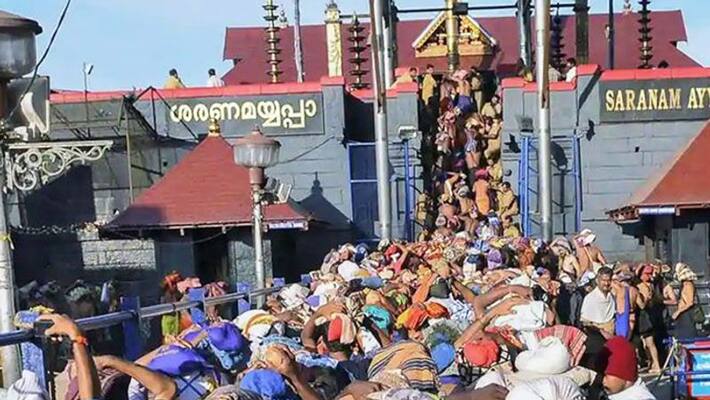 Pathanamthitta: Sabarimala shrine opened today for the 41-day annual pilgrimage season at 5pm. Security has been heightened around the hill shrine. More than 10,000 cops will be deployed in four phases.
Kerala Devaswom board minister K Surendran said the state government would not provide protection to any woman visiting the temple and those who need protection should get an order from the Supreme Court. He also asserted that activists like Trupti Desai should not see the shrine as a place to show their strength.
Meanwhile, a 32-year-old civil police officer (CPO) posted near the Sabarimala Lord Ayyappa temple complex, for security duty, collapsed and died on Saturday morning, police said. Though the CPO was rushed to the hospital from the police barracks, he was declared brought dead, they said. The Malabar Special Police officer, Biju, hails from Perambra in Kozhikode and leaves behind wife and a seven-month-old daughter. chief minister Pinarayi Vijayan condoled his death.
At the same time, at least ten women of 10-50 age group tried trekking to Sabarimala shrine on November 16. The women are touted to be from Vijayawada, Andhra Pradesh. According to sources, a group of tourists from Vijayawada were on a temple visit in Kerala. When they reached Pathanamthitta, they thought of visiting Sabarimala shrine. But when police informed them, only women below 10 and after 50 can enter the shrine, the group returned.
Last Updated Nov 16, 2019, 5:08 PM IST