Kerala News Highlights: Fourth body recovered from Munambam boat accident site
Kerala News Highlights: Fourth body recovered from Munambam boat accident site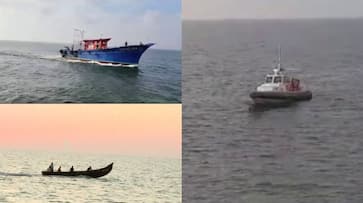 4:30 PM: 2 men arrested for stabbing youth in Malappuram
Two people were arrested in the case of stabbing a youth to death in Malappuram. Mubashir and Shaiju were arrested. Prajith, who came to help his friend during a dispute over a financial transaction, was stabbed to death.
---
4:00 PM: Youth arrested with hawala money and melted gold in Kasaragod
A youth was arrested with money and melted gold in Kasaragod on Monday( Oct 9). Rs 14 lakh and 960 grammes of gold were seized without documents. Ahmed Irfar, a resident of Thalangara, was arrested.
---
2:15 PM: Non state worker injured in drug mafia attack in Kozhikode
A non-state worker was injured in a drug mafia attack in Mukkam, Kozhikode, on Monday (Oct. 9). Chinna Durai, a native of Tamil Nadu and an employee of the workshop in Karuthaparamb, was injured. The gang attacked by rushing the jeep into his shop.
---
12:30 PM: Fourth body recovered from Munambam boat accident site
The fourth body of the misisng fisherman was recovered  from Munambam on Monday (Oct 9). The deceased was identified as Raju, a native of Alappuzha. The body was found 16 nautical miles away from Munambam. The body will be shifted to a hospital in Fort Kochi.
---
11:35 AM: Wild boar attacks man in Kozhikode
A two-wheeler passenger was injured after being attacked by a wild boar in Thamarassery, Kozhikode. Rafeeq, a native of Balussery, was injured. The wild boar jumped into the road from the field adjacent to the road and attacked him.
 
---
10:50 AM: 2 injured after bus hits van in Kozhikode
A private bus and van met with an accident in Thamarassery, Kozhikode on Monday(Oct 9). The van driver got injured, and one student from the bus was also injured.
 
---
10.10 AM: Railway official arrested in Thrissur for flashing and sexually assaulting minor
A non-Kerala railway employee was arrested for sexually assaulting a minor girl. Dayanand Choudhary (27), a native of Bihar was arrested by the West Police in Thrissur. He is a Group D officer under the Vadakanchery Railway Group. The accused grabbed the minor girl and flashed at her. He was produced in the court and remanded.
---
9.45 AM: School of Sardines lashes at Chavakkad floating bridge
A school of sardines lashed on the Chavakkad floating bridge today at 6 am. The locals who came to know about it collected the fish in bags.
---
9:15 AM: Gangster tries to attack police with knife in Thrissur
A gangster threw a knife at the police in Puthenpeedika, Thrissur district on Monday, October 9. The accused was identified as Siyad (27), a native of Kundazhiyur. The Anthikad police have arrested him. The visuals of the man attacking the police are out.
---
8.30 AM: Nurse from Kerala injured in Israel-Hamas conflict
On Saturday, a missile attack in Israel injured a Kerala woman. Sheeja Anand (41), a native of Payyavoor in Kannur, was injured. For the past seven years, Sheeja has been employed as a caretaker in Ashkelon, an Israeli coastal city in the country's southern region.
---
8.13 AM: State likely to receive rainfall today; Yellow alert in 3 districts
Kerala will witness rainfall after a gap of 4 days today (Oct 9) as predicted by the India Meteorological Department (IMD). A yellow alert has been sounded in Malappuram, Kozhikode and Wayanad districts today. 
10-10-2023 : Malappuram, Kozhikode, Wayanad, Kannur
11-10-2023 : Ernakulam, Idukki 
12-10-2023 : Ernakulam, Palakkad and Malappuram
Last Updated Oct 9, 2023, 4:50 PM IST