Kerala News Highlights: Rain likely to continue for 5 days; IMD issues yellow alert in 4 districts
Kerala News Highlights: Rain likely to continue for 5 days; IMD issues yellow alert in 4 districts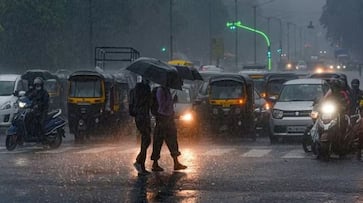 4.30 PM: Man arrested with over 5 kg ganja in Idukki
The police arrested a man with 5.240 kg ganja in Adimali, Idukki. Chirapurath Kiran (21), a native of Cherthala, Alappuzha, was arrested. Ganja was found in a bag hidden in the trunk of the car he was traveling in. 
---
3:45 PM: Kerala: Rain likely to continue for 5 days; IMD issues yellow alert in 4 districts
The India Meteorological Department has predicted isolated heavy rains in the state for the next five days. A yellow alert was issued in Wayanad, Kannur, and Kasargod districts on October 8 and in Malappuram, Wayanad, and Kannur districts on October 9. The Meteorological Department said there is a possibility of thunder and strong winds until October 10th.
---
2:15 PM: Robbery at Narikatteri Sree Sudarshana Moorthi Temple in Kozhikode
The donation box in temple was stolen at Narikatteri Sree Sudarshana Moorthi Temple on Friday (Oct 6). The theft was done by breaking the locks of the donation box placed outside the temple. Nadapuram police have launched an investigation.
---
1:30 PM: Man found dead in front of beverages outlet in Kochi
A young man was found dead in front of the Ernakulam Perumbavoor Beverages outlet. The person has not yet been identified. It is suspected that the deceased was a non-state worker. The preliminary conclusion is that the cause of death may be excessive consumption of drugs and alcohol. The police arrived and shifted the body to the Perumbavoor taluk hospital.
---
12.45 PM: Rs 200 cr scam in BSNL Engineers Cooperative Society: One more arrested
Harindranath was arrested in the Rs 200 crore scam in BSNL Engineers Cooperative Society.
---
11.45 AM:  Mortal remains of CPM veteran Anathalavattom Anandan brought to AKG centre
Read More: Kerala: Senior CPM leader Anathalavattom Anandan's cremation to be held at 5 pm today
---
11:15 AM: Kerala: Chances of high waves, sea attack today; warning issued
A warning of high waves and sea attacks was issued in the coastal areas of the state today(October 6). The National Oceanic and Atmospheric Administration has issued a warning of a sea attack and a possibility of 0.5 to 2.0 metres of high wave and storm surge in Kerala and Tamil Nadu coastal areas until 11.30 p.m. today. 
---
10.30 AM: Suresh Gopi to meet PM Modi in Delhi today
---
9.36 AM: Appointment bribery case: Akhil Sajeev nabbed from Theni
The main accused in the appointment bribery case linked to the Health Minister's office, Akhil Sajeev was nabbed by the Pathanamthitta police today in Theni. He was arrested for the fraud cases registered at the Pathanamthitta police station. An investigation team led by the district SP made his arrest. As many as 22 cases were booked against Akhil Sajeev.
---
9:20 AM: Cooking gas explodes, catches fire in Malappuram
A cooking gas exploded and caught fire in the house in Malappuram on Friday, October 6. The incident happened around midnight at Haidasen's home. The family was rescued after the fire was noticed. Mukkam Fire Brigade arrived at the spot to assist in the relief process.
---
8:57 AM: Actor Shiyas Kareem taken into custody after getting detained at Chennai Airport 
Actor Shiyas Kareem, arrested at the Chennai airport, was taken into custody by the Kasaragod Chantera police on Thursday (Oct  5). Shiyas was detained by the immigration department when he arrived from Dubai following a lookout circular in the case of rape and cheating of a female gym trainer.
---
8.30 AM: Veteran CPM leader Anathalavattom Anandan's cremation today
The cremation of late senior CPM leader Ananthalavattam Anandan will be held at 5 pm in Shanthikavadam, Thiruvananthapuram. His mortal remains will be kept for public viewing at AKG Center from 11 am and later at CITU office. He passed away yesterday evening at the Medical College Hospital. He was 86 years old. Anathalavattam was under treatment for a long time due to cancer. 
---
8.10 AM:  Fishing boat capsizes near Munambam; 4 missing, 3 saved
A boat carrying seven people overturned in Munambam in Ernakulam on Thursday at 7 pm. The incident happened 10 miles from Munambam Beach, at the north end of Vypin Island. Three of them were saved while the search for four persons is continuing in the region. Anandan, Manikandan and Baiju were rescued out of 7 people in the boat. Shaji, Sarath, Mohanan and Raju are yet to be found.
Last Updated Oct 6, 2023, 5:02 PM IST