Kerala News HIGHLIGHTS: Kerala CPI(M) defends Veena Vijayan in 'payment' controversy
Kerala News HIGHLIGHTS: Kerala Chief Minister's daughter Veena Vijayan allegedly received Rs 1.72 crore from a private company Cochin Minerals and Rutile Limited (CMRL) in monthly installments in the last three years.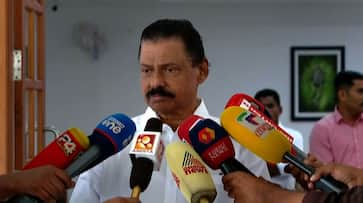 4.45 PM: Nehru Trophy: Veeyapuram, Nadubhagam, Chambakkulam, Mahadevikkadu Chundans reach finals
The final round of the Nehru Trophy Boat race will see champions Pallathuruthy Boat Club's Veeyapuram Chundan, United Boat Club Kainakary's Nadubhagam Chundan, Champakkulam Chundan of Kumarakom Town Boat Club and Mahadevikkadu Kattil Thekkethil of Police Boat Club competing against each other.
---
4.00 PM: Kerala CPI(M) defends Veena Vijayan in 'payment' controversy
CPM State Secretary MV Govindan defended Chief Minister Pinarayi Vijayan's daughter Veena Vijayan in the monthly payment (Masapadi) controversy. MV Govindan said that there is only a legal understanding between the two companies and the CPM has already made its position clear on the issue. Only legal proceedings were taken as per the agreement between the two companies. 
---
3.00 PM: BJP leader Prakash Javadekar demands probe by competent central agencies against Veena Vijayan's 'payment' controversy
On Saturday, senior BJP leader Prakash Javadekar asked that competent central agencies look into allegations of corruption involving suspected financial transactions between Veena Vijayan's company and a Kochi-based minerals company. He said that the owner of the company had handed Rs 96 crore to leaders of several political parties, including the ruling CPI(M) and the opposition UDF, in another peculiar case of corruption. 
---
1.00 PM: Puthuppally bypolls: CPI(M) candidate Jaick C Thomas to fight against Chandy Oommen
The CPI(M) has officially announced the candidate for Puthuppally bypolls today. Jaick C Thomas will fight against UDF's Chandy Oommen on September 5 polling.
---
11.30 AM: MHA announces 'Medal for Excellence in Investigation'; 9 cops from Kerala also named
The "Union Home Minister's Medal for Excellence in Investigation" for the year 2023 has been awarded to 140 Police personnel (List attached). This medal was constituted in 2018, with the objective to promote high professional standards of investigation of crime and recognize such Excellence in Investigation. It is announced on the 12th of August every year. The nine cops from Kerala are Vaibhav Saxena (SP),  Shilpa Dyavaiah (SP),  Zulfiqer M K (Addl SP), Sajan K (Sub-Inspector), R Ilango (SP), P Rajkumar (ACP), Dinil J K (ACP), K R Biju (Inspector), P Harilal (Inspector).
Here's the full list of 140 police personnel: 
---
11.00 AM:  BJP demands ED probe into Kerala CM's daughter Veena Vijayan's 'payment' controversy
BJP state president K Surendran on Saturday demanded an ED probe into Veena Vijayan's monthly payment controversy. He said that the BJP will organize an agitation demanding a comprehensive investigation.
Kerala CPI(M) backs CM Pinarayi Vijayan's daughter Veena Vijayan over 'payments'
---
9.35 AM: 'False propaganda is being run against UCC,' says Kerala Governor
Kerala Governor Arif Mohammad Khan said that the Uniform Civil Code (UCC) does not pose a threat to anyone in the country. He said that misconceptions are being spread and urged people to fight against 'false propaganda'.
Read More: False propaganda being spread against UCC: Kerala Governor Arif Mohammed Khan
---
9.10 AM: CPI(M) to officially announce Puthuppally candidate today
---
8.45 AM: Alappuzha's iconic Nehru Trophy Boat Race today; CM to inaugurate at 2 pm
The much-awaited iconic Nehru Trophy Boat Race (NBTR) is all set to enthrall the people of Alappuzha today. Chief Minister Pinarayi Vijayan will inaugurate the boat race at 2 pm while the Chief Justice will receive the salute of honour during the mass drill to be held at 2.30 pm.
---
8.35 AM: Despite massive campaigns admission in govt-aided schools dips
In a news release, Education Minister V Sivankutty reports that in the academic year 2023–2024, there were 10,164 fewer class 1 students enrolled in government-aided institutions. However, 42,059 fresh applicants for classes 2 to 10 had applied to the institutions.
---
8.24 AM: Kerala News LIVE: Rahul Gandhi to arrive in Wayanad today for first time after being reinstated as MP
Congress leader Rahul Gandhi will arrive in his parliamentary constituency in Wayanad on Saturday, for the first time after being reinstated as Lok Sabha MP. The Lok Sabha Secretariat on Monday restored his membership after the Supreme Court on August 4 stayed his conviction in the 'Modi' surname remark case. Gandhi will be in Wayanad on August 12 and 13. 
Last Updated Aug 12, 2023, 5:30 PM IST