Kerala News Highlights: Kerala to receive heavy rainfall; Yellow alert in 6 districts today
Kerala News HIghlights: Kerala to receive heavy rainfall; Yellow alert in 6 districts today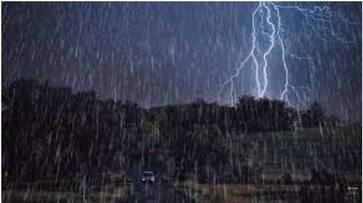 3.30 PM: Manjeshwaram MLA Ashraf sentenced to 1-year imprisonment for assaulting official while adding names to voter list
Manjeswaram MLA AKM Ashraf was sentenced to one year imprisonment and a Rs 10,000 fine. The punishment was in the case of assaulting an official in relation to adding names to the voter list. Kasaragod Judicial First Class Magistrate Court passed the sentence. The incident related to the case took place in January 2010. Apart from AKM Ashraf, Bashir, Abdullah and Abdul Khader have also been sentenced.
---
3.00 PM: Case against BJP leader Anil Antony for allegedly spreading religious hatred using video footage of Kumbala
A case has been filed against BJP leader Anil Antony for allegedly sharing video footage from Kumbala. The police filed the case citing that he tried to spread religious hatred. Social media users commented on a video of a fight between some female students in Kasaragod, claiming that Muslims were forcing a Hindu woman to wear a burqa. However, the case was that the students were fighting when the bus did not halt for them.
---
1.30 PM: Kerala to host 'Keraleeyam' to celebrate statehood day tomorrow
The inauguration of Keralayam 2023 will be held tomorrow at 10 am at the Thiruvananthapuram Central Stadium on the occasion of Kerala Day. The Chief Minister informed that the inauguration ceremony will be attended by diplomatic representatives of countries like UAE, South Korea, Norway, and Cuba, film stars Kamal Haasan, Mammootty, Mohanlal, Shobhana, Manju Warrier, industrialists MA Yusuf Ali and Ravi Pillai. The Chief Minister said that this festival of the Malayalees is an opportunity to confidently present the uniqueness of Kerala to the world.
---
1.00 PM: Kerala to receive heavy rainfall; Yellow alert in 6 districts today
Kerala will receive widespread rainfall today. The IMD has sounded a yellow alert in six districts including Idukki, Thrissur, Palakkad, Malappuram,Kozhikode and Wayanad.
---
10.35 AM: Seat belts, camera mandatory for heavy vehicles from tomorrow to obtain fitness certificate
Seat belts and cameras will be mandatory for heavy vehicles from tomorrow to get a fitness certificate. Transport Minister Antony Raju said that there will be no stopping and checking on the road. The minister said that it was earlier clarified that seat belts and cameras will be necessary if a fitness certificate is required from 1st November.
---
10.00 AM: Kerala Police files case against Union Minister Rajeev Chandrasekharan alleging attempt to incite riot
The Ernakulam Central police registered a case against Union Minister Rajeev Chandrasekhar on Tuesday (Oct 31). An FIR has been filed based on the complaint of Cyber Cell SI. The FIR stated that the Union Minister tried to create controversy through social media after the Kalamassery blast on Sunday. A case has been filed against the central Minister's Facebook account. Sections 153 and 153A of the IPC have been charged against the Union Minister.
Read More: Kerala Police books Union Minister Rajeev Chandrasekhar, accuses him of attempting to incite riot
---
9.30 AM: Bombs hurled at houses in Thiruvananthapuram; 2 youths injured
Local bombs were hurled at houses in Perumathura in Thiruvananthapuram on Monday night. A group of four who arrived in a car hurled the bombs at 10.30 pm and two youths suffered injuries. Houses and vehicles were damaged.
---
8.45 AM: IMD predicts rain with thunder and lightning till November 3
The IMD has predicted heavy rain in Kerala with thunderstorms till November 3. The Meteorological Department said that there is a possibility of widespread rain in Kerala today due to the influence of the cyclonic vortex over Sri Lanka and the Comorin region and the easterly/northeasterly winds blowing over South India from the Bay of Bengal and thundershowers are likely for the next 5 days.
---
8.35 AM: Private bus operators begin 24-hour strike
The private bus operators have begun a 24-hour strike in Kerala on Tuesday. The bus drivers protest against the government's disregard for their requests. The concession for students should be changed in parallel with the updated bus fares, the government's decision to mandate seat belt use should be rescinded, and surveillance cameras should be installed, according to the bus operators.
---
8.23 AM: Supreme Court to consider Lavalin case today
The Supreme Court will again hear the SNC Lavalin case today. A bench comprising Justice Suryakant and Justice Dipankar Dutta will consider the petition. The case reached the Supreme Court in 2017 and was listed 35 times in four benches in six years.
Last Updated Nov 1, 2023, 7:01 AM IST