Kerala: Massive landslide hit Idukki; yellow alert in 4 districts
A massive landslide hit Nedumkandam in Idukki district today. A yellow alert has been announced in Pathanamthitta, Kottayam, Idukki, and Palakkad districts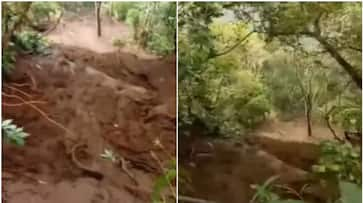 Idukki: A massive landslide hit Nedumkandam in Idukki district today. About three-quarters of an acre of land was washed away in seconds. The landslide occurred on a farm in the Pachadi region. As it is an uninhabited area, no major accidents occured.
A decision has been taken to evacuate the people following the landslide. It has been decided to relocate 25 families in the region. The authorities have instructed them to move to the camp or relatives' houses.
Meanwhile, the India Meteorological Department has warned that there is a possibility of isolated heavy rain in various districts of the state today. A yellow alert has been announced in four districts due to the possibility of rain. A yellow alert has been announced in Pathanamthitta, Kottayam, Idukki, and Palakkad districts.
The IMD also warned people to be extremely cautious in areas, including hilly areas, where there is a possibility of heavy rainfall.
Strong winds with speeds of 30 to 40 km per hour, along with thundershowers, are likely at isolated places in Kerala today. The IMD has also informed us that there is a possibility of rain with thunder and lightning from October 25 to October 28.
The National Oceanic and Atmospheric Research Centre also said that 1.0 to 3.0 metre-high waves and storm surges are likely to occur along the Kerala coast (Vizhinjam to Kasaragod) and South Tamil Nadu coast (Kolachal to Kilakarai) till 11.30 tonight.
The Central Water Commission has issued a yellow alert at the Vellaikadav station on the Karamana River in Thiruvananthapuram, and the officials have advised people living near the coast to be cautious.
Last Updated Oct 24, 2023, 4:32 PM IST