Kerala man dies after road roller runs over him
A young man was killed after a road roller ran over his head in Anchal on September 15. The accident happened around 11.30 pm at Kurishumudu, where the construction work is underway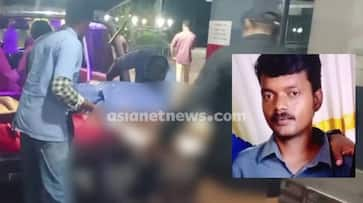 Kollam: A young man was killed after a road roller ran over his head in Anchal on September 15. The deceased was identified as Vinod (37), of Charuvila House in Alayaman Kannamkot. The accident happened around 11.30 pm at Kurishumudu, where the construction work is underway
The road roller brought for road construction work was parked on the road side. Vinod was lying in front of the vehicle. The driver said that he did not see anyone in the road as there were no street lights on the bypass.
It is reported that Vinod was drunk. There is no confirmation regarding this.
The police took the body to a private hospital in Anchal. The deceased was identified through a mobile phone found near the body. The body was shifted to the Taluk Hospital Mortuary. The body will be handed over to the relatives after the post-mortem.
Vinod skull was found in a broken state. Vinod was a tile worker, is unmarried.
Two youths died in a collision between a bike and a pickup truck.
Two youths died in a car accident at the Nilambur checkpoint in Malappuram on September 16. The accident took place when a pickup truck and a bike collided at Muttikadu. Two of them were declared dead. Meanwhile, the dead have not yet been identified. The bodies are kept in the Nilambur Government Hospital.
Boat Capsizes in Muthalapuzha; One Injured 
A boat capsized in Muthalapuzha as heavy sea waves struck the boat on Saturday( Sep 16) morning. The mishap left one person injured, as he collided his face in the boat. The injured individual was identified as Manoj, a resident of Shantipuram.
 
Last Updated Sep 16, 2023, 9:56 AM IST